Elizabeth Warren Brags About Twitter Feud with Trump in Grad Speech: 'I'm Living The Life!'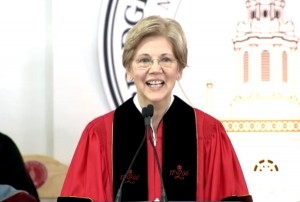 Taking a page from President Obama's playbook, Massachusetts Senator and liberal icon Elizabeth Warren took her Twitter beef with Donald Trump onto the academic stage over the weekend in a commencement address at Bridgewater State University. After advising the graduating class to "sing like no one is listening and dance like no one is watching," Sen. Warren told them to be ready for anything, even an online tangle with a certain orange real estate mogul:
Heck, on my day of graduation, I never imagined I would visit foreign countries. I never imagined I would be a commencement speaker. I never imagined I would get into a Twitter war with Donald Trump.
The crowd roared with applause, and after a walk through much of her bio, Warren returned to the subject with more broad advice about "naysayers" who "these days, say it in nastier and nastier ways." Warren promised she wouldn't sing, but advised the students in song all the same:
As one of the great philosophers of our time has said, 'Haters going to hate, hate, hate hate, hate.' Knowing who you are helps you 'Shake It Off.' (applause) Okay, I promised I wouldn't sing, and I definitely can't dance like Britney Spears.
Following the commencement, Warren blasted Trump to reporters, and again threw lukewarm water on talk of ticketing up with the eventual Democratic nominee:
"I think that Donald Trump is a truly dangerous man and there is some risk that he could be president of the United States," Warren told reporters after the graduation. "I think it's time for all of us to pay careful attention to him and to the issues that he has raised and to start fighting back."

She would not say whether she would accept an offer to run for vice president.

"I have a job I love and I wake up every morning eager to do that," Warren said.
Warren may not end up on the ticket, but her ability to trade blows with Trump could prove even more valuable to the nominee.
Have a tip we should know? tips@mediaite.com