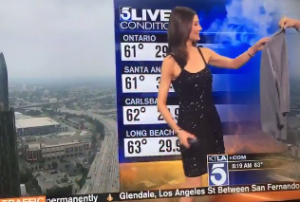 If you didn't hear, over the weekend, KTLA's Liberté Chan was forecasting the weather in a basic black shift dress with a few sparkly embellishments when a hand appeared from off-camera brandishing a sweater. She had to put the sweater on while still on the air because of emails the station claimed to have been receiving about her dress.
Guess what? People are furious.
@1PhoebeJTonkin @Variety @KTLA I don't know what's worse misogyny or that sweater.

— Leah Pipes (@leahmariepipes) May 15, 2016
The majority of tweets are coming from people who found the act of forcing a woman with a decade's worth of experience in meteorology to cover up extremely misogynistic. The argument is similar to that used by those who are stridently against dress codes in that they feel she should not be being blamed for a viewer's inability to focus because of their own personal reaction to her outfit.
@FoxNewsInsider @foxandfriends Any one of you who is offended by her sparkly dress, or what you consider "inappropriate"….get lives.

— The New Independence (@TheNew76) May 16, 2016
Interestingly, the resounding anger is bipartisan. Along with those who aren't feeling the "dress code" vibe, there are also those who have likened forcing her to cover her shoulders to "Sharia law."
@FoxNewsInsider @foxandfriends And 'a-dressing' the issue live was denigrating, demeaning & repulsive. Co-worker owes her an ON-AIR apology.

— S Adrianne McCann (@sadriannehm) May 16, 2016
Here is an interesting perspective, too:
KTLA wouldn't pull that stunt on air unless they wanted the story. But it makes them look like the damn Saudi religious police. idgi.

— southpaw (@nycsouthpaw) May 16, 2016
As a well-established news channel, KTLA knew that this clip would make waves online. What, exactly, were they trying to achieve? Judging by the anger from such diverse groups of people, unless they were going for notoriety at any cost, they didn't achieve it.
According to Chan, who posted a personal blog about the whole thing, it was all a funny joke.
For the record, I was not ordered by KTLA to put on the sweater.  I was simply playing along with my co-anchor's joke, and if you've ever watched the morning show, you know we poke fun at each other all the time.

And, also for the record, there is no controversy at KTLA. My bosses did not order me to put on the cardigan, it was a spontaneous moment..  I truly love my job, I like my bosses and enjoy working with my coworkers.  Since talking to my team, I want our viewers to know it was never our intention to offend anyone. We are friends on and off the air and if you watch our newscast, you know that.
Well, not a lot of people are laughing.
@meg_mcgrath @KTLA Wouldn't want the weather woman to show her shoulders. That may suggest she wants to fuck your husband.

— Blonde in Vuitton△⃒⃘ (@VuittonAndVodka) May 15, 2016
@RawStory the assholes who sent those e-mails if they even exist can go fuck off and live in Iran where their intolerance will be excepted

— Nathan (@TabrisThe17th) May 15, 2016
@meg_mcgrath @seanfee80 @KTLA Really? It was just a lovely dress! Nothing bad, just beautiful!

— Nysira (@Nysira) May 15, 2016
Unbelievable. @meg_mcgrath SHAME ON YOU? @KTLA!! And ppl STOP calling tv stations about how on-air women are dressed! #sexism #bodyshaming

— Kristin Whiteley (@causalitybrunch) May 15, 2016
@meg_mcgrath @scATX @KTLA if it all wasn't gross enough, the way he shakes the sweater at her makes my skin crawl.

— cheapo nanners (@COPSthemesong) May 15, 2016
Seriously, try it yourself. Go to the search bar on Twitter and type in any combination of "Liberté Chan," "KTLA," "meteorologist," or "sweater." Click any tweet about the story from a news source and read the replies. There sure aren't a lot of accolades for KTLA.
[image via screengrab]
For more from Lindsey, head to Twitter or Facebook.
Have a tip we should know? tips@mediaite.com