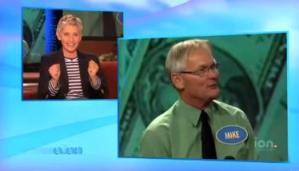 Family Feud and other game shows often provide great fodder for bloopers and other viral video moments.
Well one contestant's offensive answer about Ellen DeGeneres recently drew the attention of the talk show host – and she replayed the tape "Mystery Science Theater 3000"-style on her show.
The category was "something everyone know about Ellen DeGeneres," and the Sutton family was in control of the board (via Alan Colmes's "Liberaland" blog). "She's gay" had 74 responses. "She has a talk show" got 8 responses for second place. Then it was time for the family patriarch, Mike, to give his answer. "I would say that she doesn't like our country very well," answered Mike while the crowd gasped in horror.
Actually – the family, and crowd just clapped, as they do for every answer. Host John O'Hurley repeated it for effect. "She doesn't like the country!" and of course, first strike. "Nope, not there."
"Dish Network, if you could update the listings to say Ellen DeGeneres loves America, that would be wonderful," she said after watching the clip of Mike Sutton's answer again. "And other countries. Actually I love the planet, just include everyone there."
The rest of the family appeared to know quite a bit about DeGeneres, and eventually swept the category. And Mike get a chance for some redemption – she invited them to come play "Know Or Go" on her show.
This may not be the last we hear of the Sutton family, unless Mike doesn't like Ellen's show very well.
Here's the clip from Ellen's show:

> Update: As DeGeneres suggested, Dish Network responded today:

—–
» Follow Steve Krakauer on Twitter
Have a tip we should know? tips@mediaite.com