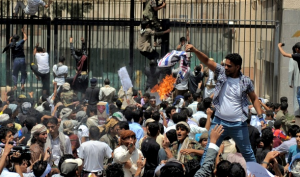 Violent protests are spreading overseas as protesters stormed the U.S. embassy in Yemen. Boston.com reports:
Chanting ''death to America,'' hundreds of protesters angered by an anti-Islam film stormed the U.S. Embassy compound in Yemen's capital and burned the American flag on Thursday, the latest in a series of attacks on American diplomatic missions in the Middle East.

The protesters breached the usually tight security around the embassy and reached the compound grounds but did not enter the main building housing the offices. Once inside the compound, they brought down the U.S. flag, burned it and replaced it with a black banner bearing Islam's declaration of faith — ''There is no God but Allah.''
In addition, protests that the NY Post describes as initially peaceful turned tense as about 300 protesters tried to storm our embassy there, with police managing to keep them at bay. This comes on the heels of warnings from U.S. embassies in Tunisia and Algeria urging Americans overseas to avoid crowded places.
Riots also continue in the streets of Egypt. You'll recall that, on Tuesday, protesters swarmed the American embassy in Cairo, also tearing apart the American flag, and overtook the embassy in Benghazi, leading to the death of Ambassador Chris Stevens and three other staffers.
The attacks have been tied to an English-language anti-Muslim film Innocence of Muslims, although others (including Lt. Col. Anthony Shaffer, appearing on this morning's Fox & Friends) maintain the film is merely a distraction.
h/t Boston.com, Image via
Have a tip we should know? tips@mediaite.com