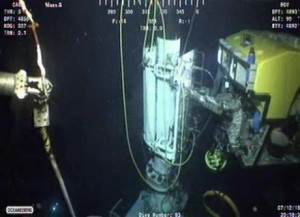 According to numerous wire reports, for the first time in 87 days, there is currently no oil flowing into the Gulf of Mexico as a result of the broken BP controlled oil well Deepwater Horizon. While the news is certainly encouraging, officials continue to be very cautious, and are planning to continue with a "stress test" of the oil cap for the next 48 hours. If all goes well after the additional precautionary measure, this could very well be the end of the oil leaking into the gulf.
AP reports:
BP says oil has stopped leaking into the Gulf for the first time since April.

BP has been slowly dialing down the flow as part of a test on a new cap. Engineers are now monitoring the pressure to see if the busted well holds.

BP engineers were back to the slow work of trying to choke the Gulf of Mexico oil gusher Thursday with an untested cap, slowly dialing down the flow.

The latest step — just like other developments in the monthslong environmental crisis will take several hours to complete. If it works, BP believes no oil will be leaking into the water for the first time.

Engineers got to work after replacing a leaky pipe. Kent Wells, a BP PLC vice president, said at a news briefing in Houston that the leak was found on the side of the towering, 75-ton capping stack and it was fixed by replacing the assembly, called a "choke line."
News of the stopped oil leak has sent the price of BP shares up 10%. Shepard Smith reported on this with a "FOX Urgent" chyron that also announced "BP: No Oil Currently Flowing Into Gulf Of Mexico." The video clip is below.
Have a tip we should know? tips@mediaite.com