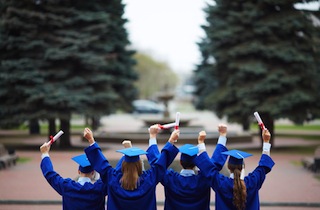 At this point, it would be easier for students to make a list of speakers they would like to give their commencement address.

Former Chancellor of U.C. Berkeley Robert Birgeneau withdrew last weekend from his scheduled commencement address at Haverford College, after students and faculty sent him a letter with nine conditions to meet, including apologizing for authorities' forceful response under his watch to 2011 student protests of California's higher education financing.
"As a community standing in solidarity with nonviolent protesters across the country, we are extremely uncomfortable honoring you," fifty students and professors wrote. "To do so would be a disservice to those nonviolent protesters who were beaten and whose actions you dismissed as 'unfortunate,' as if they brought the abuse upon themselves."
RELATED: Rutgers Embarrasses Self After Compelling Condi to Cancel on Commencement
This comes just days after International Monetary Fund chief Christine Lagarde withdrew from Smith College's commencement address following protests of the fund. And that was after former Secretary of State Condoleezza Rice withdrew from Rutgers' commencement address over protests of her role in the Bush administration's overseas adventures. (Her replacement fared no better.) And all that is following a controversy at Brandeis University over its attempt to give an honorary degree to Ayaan Hirsi Ali, who is accused of making anti-Islam statements.
Despite all this, MSNBC host Chris Matthews weathered his tiny protest to give the commencement address at Ohio State University.
[h/t Chronicle of Higher Education]
[Image via Shutterstock]
——
>> Follow Evan McMurry (@evanmcmurry) on Twitter
Have a tip we should know? tips@mediaite.com