Eric Cantor Spokesman Brad Dayspring Defends Following 'Sexy Twitpics' Twitter Account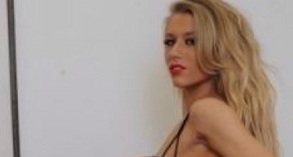 House Majority Leader Eric Cantor has voiced his displeasure at the Occupy Wall Street protests, but FishbowlDC's Betsy Rothstein has uncovered something interesting that has been occupying Cantor communications director Brad Dayspring's time. It turns out that one of the thousand or so Twitter accounts Dayspring followed was one called "SexyTwitPics," featuring soft-core pictures from " Sexy Ladies' Twitter Accts."
Dayspring defended the follow to Rothstein, but has, apparently, since thought better of the sexy stream. It no longer appears in his "following" list.
A New York Times mention of Dayspring's Twitter messaging prowess caught Betsy's eye, so she did a little digging, turning up the titular Twitter feed. (That is what "titular" means, isn't it?):
Turns out Dayspring's personal Twitter feed, @BDayspring, has 4,388 followers and follows 1,007 accounts, one of which is SexyTwitPics (a few of their pictures are featured above). Description: "We RT only the HOTTEST Pics DIRECTLY from Sexy Ladies' Twitter Accts! (No random girls, xxx, guys) Ladies Mention us w your pics! 18+"

In other words, it's tweet as we say not as we do.
Rothstein reached out to Dayspring for comment, and he responded by defending the choice to follow SexyTwitPics. First noting that @BDayspring is a personal (rather than official) Twitter feed, he told Betsy, "the reason I follow it is because my friend in San Diego is a model who was featured on the site and suggested that her friends  follow it."
Dayspring also questioned the news value of the story. "I don't think this is a productive story for anyone. Are we really going to start looking into the thousands of accounts that people follow?" he said, via email to FishbowlDC.
In the interest of full disclosure, Dayspring also follows Betsy's FishbowlDC Twitter feed, as well as that of her co-editor, Matt Dornic, which makes this objection seem somewhat silly. Has he not read FishbowlDC, "A media site for those who aren't afraid to dive into deep waters (and occasionally some shallow ones)?"
Even so, I was all set to defend Dayspring on this one. His explanation was eminently reasonable, and he deserves credit for responding at all. His response evokes the "individual liberty" rhetoric you hear so often from "Libertarian-leaning" Republicans, but rarely see in practice.
Unfortunately, it appears that Dayspring's loyalty to his San Diego model friend has been overtaken by some other consideration. He's no longer following SexyTwitPics, perhaps as a result of Rothstein's story, or a word from on high. Dayspring hasn't responded to our request for comment.
I say Dayspring should fight the power, and re-follow SexyTwitPics. Sure, he could just open up a search window in his Tweetdeck, and no one would ever be the wiser, but it's the principle of the thing.
Have a tip we should know? tips@mediaite.com