Erykah Badu Talks About Seeing the 'Good in Everybody,' Including… Hitler, in Bizarre Interview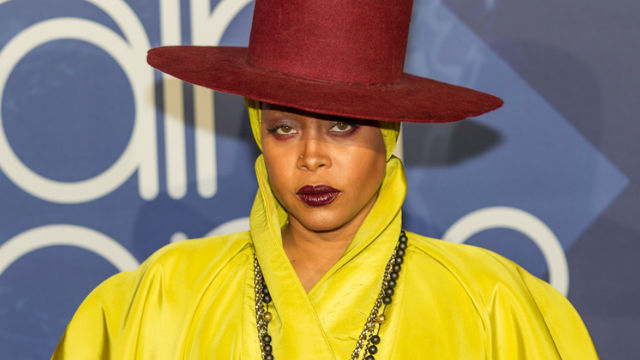 Erykah Badu gave a truly bizarre interview with Vulture that somehow took a weird detour into Hitler's painting.
Yeah.
Let's back up a second.
Badu first addressed comments she made about Louis Farrakhan:
So I'd gone to Palestine and journalists asked me, "Do you believe in Louis Farrakhan? Do you follow him?" Sure I do. I'll follow anyone who has positive aspects. He single-handedly changed half of the Nation of Islam to clean eating, clean living, caring for their families. He has flaws — like any man — but I'm not responsible for that. I said I've appreciated what he's done for a lot of black Americans. I mean, I'm not Muslim, I'm not Christian, I'm not anything; I'm an observer who can see good things and bad things. If you say something good about someone, people think it means that you've chosen a side. But I don't choose sides. I see all sides simultaneously.
David Marchese responded, "That's not something most of us are good at."
And then Badu went ahead and said, "We're not, and I'm okay with that. I'm also okay with anything I had to say about Louis Farrakhan. But I'm not an anti-Semitic person. I don't even know what anti-Semitic was before I was called it. I'm a humanist. I see good in everybody. I saw something good in Hitler."
Marchese's reaction: "Come again?"
She simply said, "Yeah, I did. Hitler was a wonderful painter."
There are really no words to describe what happened next:
No, he wasn't! And even if he was, what would his skill as a painter have to do with any "good" in him?
Okay, he was a terrible painter. Poor thing. He had a terrible childhood. That means that when I'm looking at my daughter, Mars, I could imagine her being in someone else's home and being treated so poorly, and what that could spawn. I see things like that. I guess it's just the Pisces in me.

I'm perfectly willing to accept that you might be operating on a higher moral plane than I am, but I think going down the route of "Hitler was a child once too" is maybe turning the idea of empathy into an empty abstraction.
Maybe so. It doesn't test my limits — I can see this clearly. I don't care if the whole group says something, I'm going to be honest. I know I don't have the most popular opinion sometimes.

But don't you think that someone as evil as Hitler, who did what he did, has forfeited the right to other people's empathy?
Why can't I say what I'm saying? Because he did such terrible things?

Well, yes. But it's also disheartening to hear you say that at a time, like now, when racism and anti-Semitism are so much in the air. Why would you want to risk putting fuel on that fire?
You asked me a question. I could've chosen not to answer. I don't walk around thinking about Hitler or Louis Farrakhan. But I understand what you're saying: "Why would you want to risk fueling hateful thinking?" I have a platform, and I would never want to hurt people. I would never do that. I would never even imagine doing that. I would never even want a group of white men who believe that the Confederate flag is worth saving to feel bad. That's not how I operate.
…
You can read the whole thing here.
[image via Jamie Lamor Thompson / Shutterstock.com]
— —
Follow Josh Feldman on Twitter: @feldmaniac
Have a tip we should know? [email protected]
Josh Feldman - Senior Editor