ESPN Host Slams Richard Sherman's 'Counter-Productive' #BlackLivesMatter Comments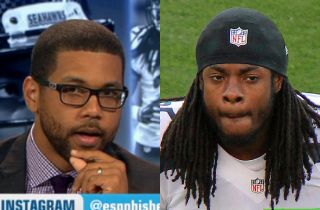 Yesterday, Seattle Seahawks quarterback Richard Sherman drew some attention when he said that #BlackLivesMatter ought to be focusing more on black-on-black crime before challenging other people.
ESPN2 host Michael Smith responded later on His and Hers, where he said that he respects Sherman and other athletes who speak out on social issues, but that he is "dead wrong" and "needs to do a little more reading," on the subject.
"This is so counter-productive because it undermines the message and the movement that is Black Lives Matter," Smith said. He continued to refute Sherman by saying that Black people already care about crimes within their community, but that there was a difference between that and the accusations of racial profiling and unfair treatment from officials the movement tries to address.
"Black-on-black crime has nothing to do with crimes against black people by the state," Smith went on. "I'm just a little disappointed to hear Richard Sherman speak on that and validate the people who think that. We hear that enough every day."
Sherman's statement came while speaking about the crimes he witnessed while growing up, stating that addressing police behavior is not the end-all solution, and that there's a certain way to go about things.
"We need to solidify ourselves as people and deal with our issues, because I think as long as we have black-on-black crime and, you know, one black man killing another … if black lives matter, then it should matter all the time."
You can watch the segment here, via ESPN:
[h/t The Blaze]
[image via screengrab / wikimedia]
— —
>> Follow Ken Meyer (@KenMeyer91) on Twitter
Have a tip we should know? [email protected]