ESPN President: Grantland Could've Survived If Writers Didn't Follow Simmons to HBO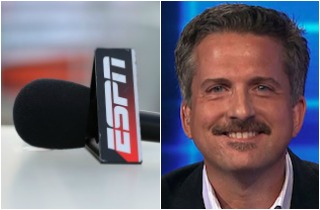 In his first interview since he made the decision to shutter Grantland, ESPN President John Skipper said the revered sports and pop culture site could have been saved if some of its key staffers did not follow Bill Simmons to HBO.
Skipper told Vanity Fair that he offered Sean Fennessey the site's top job of editor-in-chief.  Grantland, Skipper said, would not have been shut down if Fennessey accepted the position.
"We would have kept it going," Skipper said. "There was no way we would have made that job offer to him if we weren't going to keep going."
ESPN fired Simmons, the founder and former editor-in-chief of Grantland, earlier this year in what was a widely publicized ordeal. He has since signed a multi-year deal with HBO for an unknown project, and a number of former Grantland staffers, including Fennessey, jumped ship to join Simmons.
According to Vanity Fair's James Andrew Miller, Fennessey, who declined to be interviewed, questioned whether he would have the "resources he needed to run the site and keep its reputation solid," and eventually learned of rumors that ESPN wanted to nix the pop culture aspect of the site.
Elsewhere in the interview, Skipper revealed that it was his decision to pull the plug on Grantland, adding that he was not influenced by Disney, ESPN's parent company, and that those closest to him were "fairly divided." He also admitted to under-appreciating the bond Simmons had with his writers.
"In the weighing of a decision like this, you look at the resources, the time, the energy necessary to do this well and balance that with the things you get from it," Skipper added. "This was never a financial matter for us. The benefits were having a halo brand and being Bill Simmons related."
Even before Grantland was shuttered, ESPN was under fire for other layoffs within the network that have affected as many as 300 employees. Charley Steiner, a former anchor for the network's flagship SportsCenter, recently took to Facebook to express his displeasure with the firings.
"The pain, anger, frustration, sadness and outrage I feel after the mass executions (harsh, but occupationally and socially correct) of the past week of so many people I know, worked, lived and grew up with is enormously painful," Steiner wrote. "As ESPN grew from the soulful little sports cable station into the soulless monolith it has become, we were the last ones to realize what it would become."
Read the full Vanity Fair interview here.
[Images via Shutterstock / Grantland]
— —
>>Follow Andrew Desiderio (@desiderioDC) on Twitter
Have a tip we should know? tips@mediaite.com