Esquire's 'Sexiest Woman Alive' Mila Kunis Rips GOP: 'Offensive' How They 'Attack Women'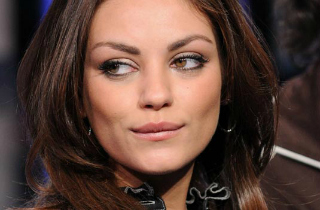 Forgetting Sarah Marshall star Mila Kunis may have just been given the title of "Sexiest Woman Alive" from Esquire, but she's concerned with a lot more than maintaining a pretty face this election season. In an interview with the publication about a host of different topics, the 29-year-old celebrity said the "way that Republicans attack women is so offensive" to her.
"And the way they talk about religion is offensive," the Ukrainian-American actress went on. "I may not be a practicing Jew, but why we gotta talk about Jesus all the time? And it's baffling to me how a poor person in Georgia can say, 'I'm a Republican.' Why?"
Another thing that really boiled her blood? One of John McCain's senate campaign videos on immigration:
"God, not many people have seen this commercial. McCain's walking along the Arizona border fence and talking to a sheriff, and the sheriff says, 'You're one of us, sir.' And McCain turns to the sheriff and says, 'Eh, finish the dang fence.' I lost my shit. 'Finish the dang fence.'"
When told by the Esquire reporter that it's unusual to hear celebrities talk about politics, Kunis said, "I don't think I'm a celebrity. I'm a working actress. I think there's a difference."
One political figure she does like, however, is CNN's Wolf Blitzer. The A-lister gushed about what it was like to encounter him at the 2011 White House Correspondents' Dinner:
"I had the most incredible experience. Ever. I watch CNN or MSNBC all day long, every day. So I meet with Wolf, and I was like, 'Oh, my God. There's Wolf Blitzer.' Like two drinks in, I just start talking. 'So, about Ahmadinejad's nephew …' Wolf was surprised I followed politics."
Read the full interview here.
—
>> Follow Laura (@LauraDonovanUA) on Twitter
Have a tip we should know? [email protected]