Ethics Chair Will Make Congress Report Free Trips; Blames Reporter for Hyping Issue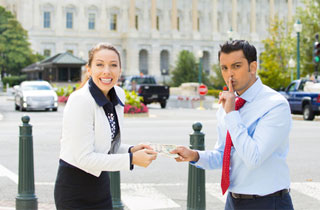 After a firestorm ignited over a rule change that let Members of Congress off the hook for reporting free trips paid by private interest groups, the chair of the House Ethics Committee grumblingly reversed the rule, and got mad at a reporter for making it such a big deal.
Calling into a local Texas radio station, Rep. Michael Conaway (R-TX11) said that due to the controversy surrounding the rule change, he and his Democrat counterpart Linda Sanchez (D-CA38) would "reverse that decision." However, he defended his Kafka-esque decision to eliminate the requirement to disclose trips on the annual financial disclosure form, saying he was streamlining things by making the disclosures available in a completely separate office: "This report on an annual basis is redundant, it's duplicative," he said. "So it's out there, we're not hiding anything from anybody."
While Conaway expressed frustration at his House colleagues, such as House Minority Leader Nancy Pelosi and Rep. Mike Fitzpatrick for throwing them "under the bus over a decision that was made months ago," he also said that none of this hubbub would have happened if it weren't for that meddling National Journal reporter who initially published the rule change.
No, really, he said that:
Conaway said the firestorm occurred "only because one reporter who makes a living jacking people up about these trips" wrote about the issue.

"We had gotten not one complaint from the public," he added of the unannounced change. "Not one person had looked for this information except this reporter."
Okay, then, Old Man Jenkins.
[h/t National Journal]
[Image via Shutterstock]
—
>> Follow Tina Nguyen (@Tina_Nguyen) on Twitter
Have a tip we should know? tips@mediaite.com