Everyone from the Marines to the Westboro Baptist Church Is Getting Into Pokémon Go
Pokémon Go has, literally overnight, exploded into a global phenomenon, and everyone wants a piece of it. Nintendo had resisted mobile platforming for so long, but this new game––which involves literal travel around the real world in search of Pokémon in an augmented reality––is attracting so much praise and buzz.
In fact, it's so big right now that there are literally police departments warning people about the risks of walking into random places with your eyes glued to your phone. People have been hurt playing the game, and someone else found a dead body.
So, yeah, it's been a big week for Pokémon.
Such a big week, in fact, that members of Congress are actually getting in on it:
Anyone else on #PokemonGO? I've found a #Squirtle & a #Pikachu in DC, but I'm still looking for a Republican willing to vote on #NoFlyNoBuy

— Judy Chu (@RepJudyChu) July 11, 2016
Found an Exeggcute on the House Floor! Sorry, no pics allowed! #PokemonGO

— (((Jared Polis))) (@jaredpolis) July 11, 2016
And there have been all sorts of jokes about Hillary Clinton pandering to the youths with a reference to the Pokémens, but her opponents got there first:
Watch out world, there is a new #PokemonGO player on the scene. pic.twitter.com/RWr2jA5zUZ

— ForAmerica (@ForAmerica) July 11, 2016
And now we come to the Good News/Bad News section of this Pokémon phenomenon. First, the good news. The Marines have a pretty good sense of humor:
Get off the firing line, Pikachu! That's a safety violation! pic.twitter.com/WilmXFBHlf

— U.S. Marines (@USMC) July 11, 2016
And now for the bad news: the Westboro Baptist Church is using it too.
See, according to USA Today, the Westboro Baptist Church happens to be the location of a virtual Pokémon gym, so someone decided to take over the gym and call it "Love Is Love."
Unfortunately, the WBC retaliated:
When you bring sodomite lies to our virtual doorstep, we must get jiggly with it! #Pokémongo https://t.co/oxGGtR9Zqh

— Westboro Baptist (@WBCSaysRepent) July 11, 2016
Using the Truth Edition cards to contend for the faith in the #PokemonGo arena! (Vine by @WBCVideo) https://t.co/xQp20YXkU5

— Westboro Baptist (@WBCSaysRepent) July 11, 2016
And unlike the new Ghostbusters movie, behold something that will actually ruin your childhood: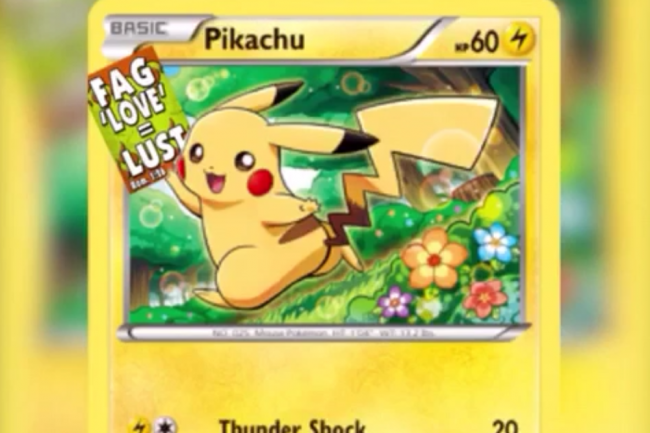 [image via screengrab/IGN]
— —
Follow Josh Feldman on Twitter: @feldmaniac
Have a tip we should know? [email protected]
Josh Feldman - Senior Editor