If the "sexy" Donald Trump Halloween costume isn't to your liking, then maybe you should try decorating your pumpkin as the Republican presidential candidate. The YUGE-er the pumpkin, the better!
At least, that's according to Jeanette Paras, who told CNN all about her giant painted pumpkins caricatures of famous politicians, celebrities and fictional personas. This year's prized pumpkin is a whopping 374 pounds in weight, took 10 hours to paint, and features the well-known face of the New York real estate mogul.
So why Trump? "He's just everywhere," Paras said, though she had originally considered "some other characters."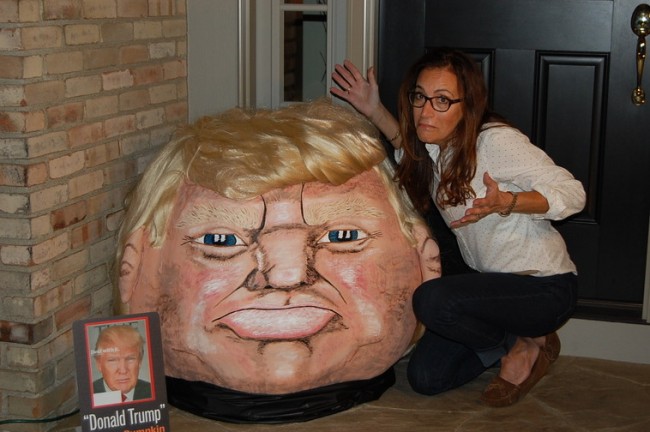 Along with the "Trumpkin," which sits on Paras' front porch, the so-called not-an-artist put a large sign in her yard that reads "Make Pumpkins Great Again."
Paras' path to Trumpkinhood began with a trip to an annual pumpkin show in central Ohio during the late '80s. She and her husband bought two 70-pound behemoths to brink home to cook, but when their size proved to cumbersome for the kitchen, Paras decorated them as Mike Dukakis and George Bush instead. She's been painting pumpkins ever since.
Of course, Paras isn't the only person to use the Donald as inspiration for her Halloween decorations. Former Trump adviser Roger Stone posted a photo of a rather ornate pumpkin carving to Twitter on Monday.
Here is my Halloween Trumpkin- it's Amazing , classy and YUGE only @realDonaldTrump can make America great again ! pic.twitter.com/Rw9REiTgzg

— Roger Stone (@RogerJStoneJr) October 26, 2015
Please make it stop.
[h/t CNN]
[Image via iReport/CNN]
— —
>> Follow Andrew Husband (@AndrewHusband) on Twitter
Have a tip we should know? tips@mediaite.com