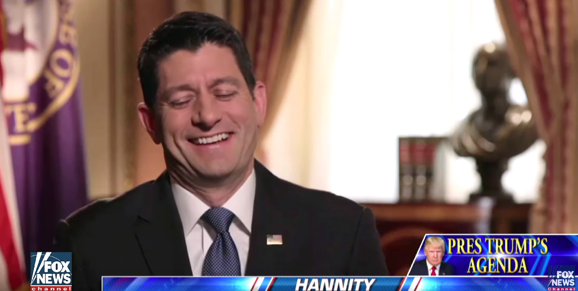 Paul Ryan is done with questions about the American Health Care Act.
The Speaker of the House held a detailed powerpoint press conference to explain the new law. With clicker in hand and rolled up sleeves, the Speaker led reporters through what he said were Obamacare's failings and the proposed Republican alternative.
But very few people online paid much attention to what Ryan said, and instead focused on the unique substitute teacher-esque situation he had put himself in.
Mediaite's own Managing Editor, Jon Nicosia, led the way — though he was hardly alone!
GUYS! We have the coolest substitute teacher today! pic.twitter.com/xMin3Kleoc

— Jon Nicosia (@NewsPolitics) March 9, 2017
wow finally something we can all agree on pic.twitter.com/5BR1ArI3Bk

— Ashley Feinberg (@ashleyfeinberg) March 9, 2017
Whoa pic.twitter.com/sgl6gqkwgr

— Dave Weigel (@daveweigel) March 9, 2017
"And while the software library is somewhat limited, the new Zelda alone makes Nintendo Switch a must-have. Mom, dad, thanks for listening" pic.twitter.com/ShqslZRPsX

— Dave Itzkoff (@ditzkoff) March 9, 2017
— Gideon Resnick (@GideonResnick) March 9, 2017
Allow me to save all the Photoshoppers some time. pic.twitter.com/vwiRJTeVPM

— Philip Bump (@pbump) March 9, 2017
Power Points. On cable television. I'm really excited to see the ratings on this.

— Hadas Gold (@Hadas_Gold) March 9, 2017
I'm fairly certain I've never seen anyone give a PowerPoint presentation on national television.

— Oliver Darcy (@oliverdarcy) March 9, 2017
2 signs Ryan means business today:
1. Sleeves rolled up
2. Powerpoint presentation https://t.co/iQq8ZMKgvT

— Hunter Schwarz (@hunterschwarz) March 9, 2017
This is a good audition for @SpeakerRyan for his guest fellowship at Harvard or the University of Chicago after he resigns in frustration.

— Josh Barro (@jbarro) March 9, 2017
Paul Ryan is talking about a balloon graphic right now pic.twitter.com/zaZdeHCKzX

— Ethan Klapper (@ethanklapper) March 9, 2017
I left a meeting to make this pic.twitter.com/mcS7cnAySy

— Dan Amira (@DanAmira) March 9, 2017
Wow GOP message discipline is strong. pic.twitter.com/WP59Y7H30F

— Jon Hecht (@JonEHecht) March 9, 2017
[image via screengrab]
Have a tip we should know? tips@mediaite.com