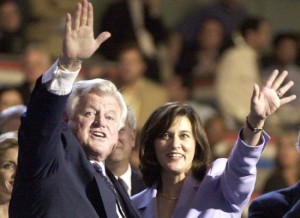 Anytime an influential man dies, attention is paid to his wife. The grace and allure of the grieving widow has fascinated Americans for decades, from Jackie O to Ruth Madoff (in a weird way). Vicki Kennedy is no exception. Since Senator Kennedy's death, there's been countless profile pieces written about "the woman who saved Ted," their marriage, and how they fell in love.
But being a Kennedy, it wasn't long before talk of Vicki entering the political world began. Surprisingly, the grape vine initially sprouted not from speculative media pundits, but Ted Kennedy's close friends in the Senate, Orrin Hatch and Chris Dodd.
Both the Daily Beast and Huffington Post ran the video of Hatch and Dodd on CNN's State of the Union saying Vicki would be a great replacement and should be considered. Despite Dodd conceding that "She has expressed to me her own reluctance to do [so]," a media frenzy followed with chatter of Vicki's interest in her late husband's seat. Will she do in Massachussetts what Caroline never succeeded to do in New York? Does she even want to?
The Boston Herald has run two articles so far, both with theorizing titles. "Will Vicki Kennedy fill Ted Kennedy's shoes?" relied on "A Democratic operative with Kennedy contacts," in stating that Vicki Kennedy "is 'very much interested' in occupying the seat to see his life's work completed." It's also reporting that Joe Kennedy is also vying for the Senate spot. The Herald's other article, run a few days earlier, asked "Now that Ted is gone, has Vicki Kennedy's time come?" Again, Vicki's intentions (or lack thereof) are acknowledged, but snubbed:
Although Vicki has sent the message that she is not interested in being either appointed or elected to the Senate, political observers believe that that may not be the final word.

"I have a hard time believing that there is not some sort of plan for a Kennedy to carry on the torch," said one political insider. "It's going to be either Joe (Kennedy) or Vicki – and if it's not either one, I'd be totally shocked."
The LA Times joined in on the hypothesizing fun with its headline "Vicki Reggie Kennedy: lawyer, widow, next U.S. senator from Massachusetts?" Again, her lack of interest is an insignificant factor:
"Now, though she has said she is not interested, pressure is mounting on Victoria Reggie Kennedy to save his agenda — serving as interim senator from Massachusetts until January when a special election is planned to fill the seat held by her husband, the late Edward Kennedy."
Her appointment seems so natural, to media and Kennedy "insiders" alike, that it might as well be divine. In fact, Vicki Kennedy may just be the next Jesus:
"'It was as if the good Lord had sent her,' former Sen. John Warner, a close friend of Kennedy's, told Politico.com."
Speaking of Politico, it seems to be the only source portraying the story somewhat accurately with its piece "Next step not clear for Vicki Kennedy" In a refreshing turn of events, the article devotes more than half a sentence to Vicki's lack of interest in the Senate seat.
Kennedy has told friends she isn't interested in filling her late husband's Senate seat either temporarily—if state lawmakers revert back to an old system that would allow the governor to fill the vacancy—or in the long-term, by running in a special election. "All this stuff about her going to the Senate is completely wrong," Bob Shrum, the longtime Kennedy speechwriter and adviser, said in an interview.
Who knows if Vicki Kennedy will cave in and make a Senate bid. It seems highly unlikely. One thing's for sure – the media's doing a hell of a job putting the pressure on.
Have a tip we should know? tips@mediaite.com