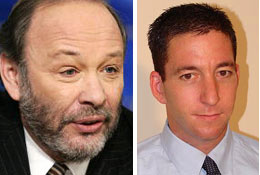 An online feud is heating up between Time's Joe Klein and Salon's Glenn Greenwald. Although the bad blood reaches back a stretch, at issue now is Greenwald's publication of Klein's off-the-record emails to the "Journolist." Klein slammed Greenwald on Time's Swampland blog: (h/t HuffPo).
Klein wrote:
Twice in the past month, my private communications have been splashed about the internet. That such a thing would happen is unfortunate, and dishonorable, but sadly inevitable, I suppose. I ignored the first case, in which a rather pathetic woman acolyte of Greenwald's published a hyperbolic account of a conversation I had with her at a beach picnic on Cape Cod. Now, Greenwald himself has published private emails of mine that were part of a conversation taking place on a list-serve.
Greenwald and his acolyte might have a legitimate axe to grind with Klein regarding his bona fides as a liberal pundit, and I'm not crazy about Klein's sexist-y, contemptuous reference to a "woman acolyte." Having read her account of the encounter, he doesn't really have a leg to whine on about her publicizing of that conversation, but he's dead-on about the handling of his emails. No matter the justness of your cause, you can't say "boo" about someone's journalism skills if you violate the most basic of its ethics.
That's why I was a little bit surprised to learn that Joe Klein recently published an email from a reader, complete with the reader's full name and email address. This is arguably a violation of a more sacred trust. Klein is in the public eye voluntarily. His readers, even the jerky ones, ought not to be thrust there by him, with none of the benefits he enjoys.
This kerfuffle comes on the heels of another high profile case of email privacy violation, the publication of Mike Hendricks' ham-fisted job pitch to PR firm Ogden Publications. In both cases, the offenders published emails to satisfy some personal grudge, and took pains to protect the identities of the email recipients.
There may be situations in which the news value of an email might merit its publication, with as much protection of personal info as possible, but none of these examples rises to that level.
The bigger question here might be "Is this the end of Journolist?" An off-the-record email list ceases to be useful once its contents become fair game. I'm betting Journolisters will be a lot less candid from now on.
Have a tip we should know? tips@mediaite.com