EXCLUSIVE: GOP Lawmaker Who Resigned Amid Sex Scandal Still Sexually Harassing Young Men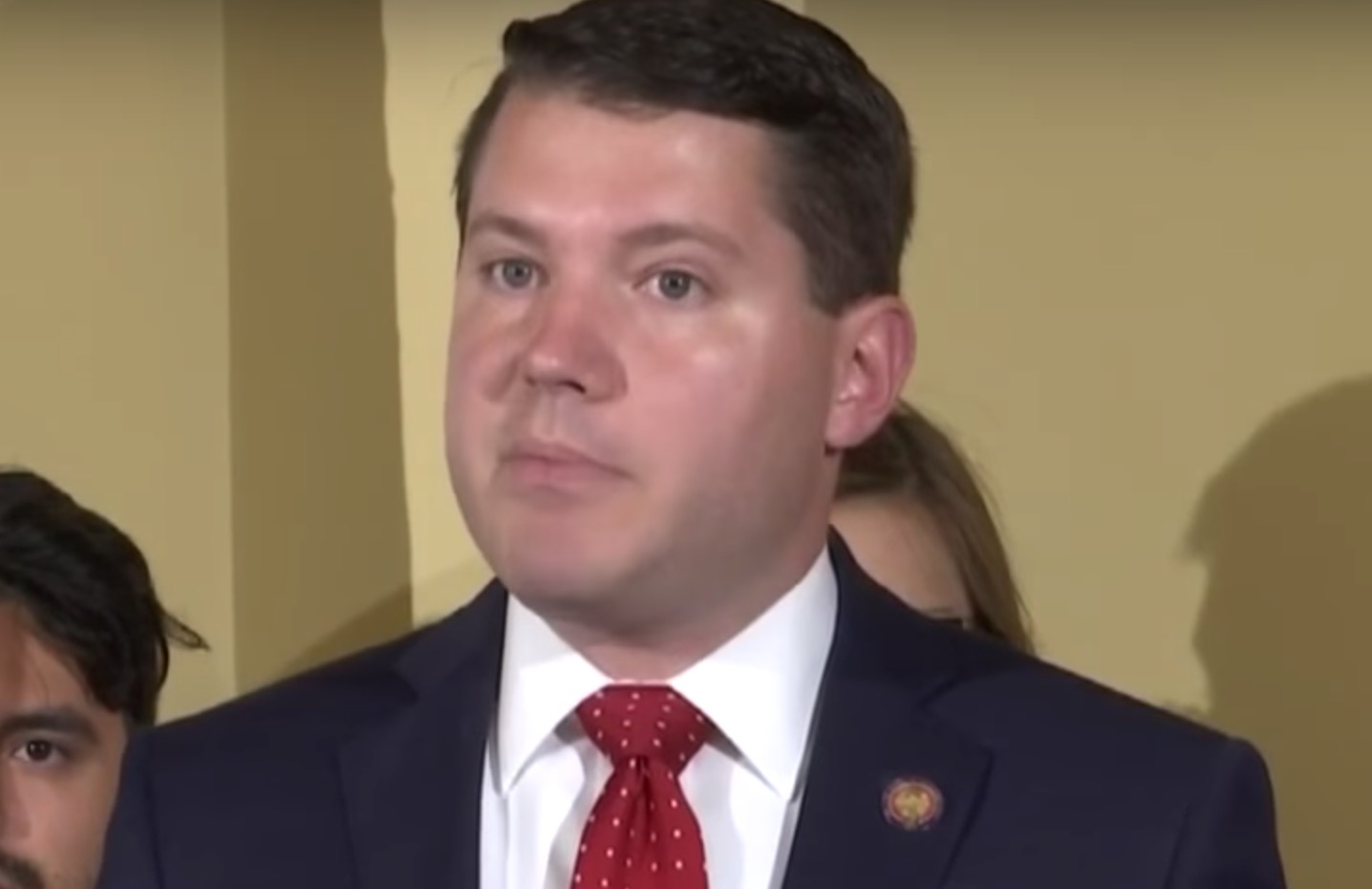 Disgraced ex-GOP state lawmaker Wesley Goodman — who resigned after having consensual sex with another man in his office and was plagued by a sexual misconduct scandal soon after — is still sexually harassing young men, according to a number sources who spoke with this reporter and provided Mediaite with evidence to back up their claims.
Before his downfall, the state representative was considered a rising star among evangelical Republicans in Ohio after working for fiercely anti-gay rights Congressman Jim Jordan.
Goodman was catapulted into the national media spotlight in late 2017 after it was revealed that the anti-LGBTQ representative was having sex with another man in his office. While hypocrisy was the focus of the original story, it soon took a more sinister turn after dozens of individuals came forward to accuse the lawmaker of years of sexual harassment in a November bombshell report by the Independent Journal Review's Caleb Hull.
Now, according to four individuals who came forward to Mediaite with new allegations, Goodman, 33, has not retired this habit of sending unsolicited suggestive or sexual messages and "dick pics" to unsuspecting young men between the ages of 18-24.
Stories of Goodman's sexual harassment almost always followed the same pattern. They start with a LinkedIn invitation or Facebook friend request sent to a young conservative; he then slides into their direct messages and uses his position to play the contact off as a professional gesture from an established figure in Republican politics.
Things start to get inappropriate when Goodman asks for a Snapchat username.
The photo and video messenger app is his communication method of choice, as content shared on Snapchat permanently disappears once the receiving user finishes viewing it once. However, photos, videos, and text can be saved in chat or by screenshot, but both users are alerted if someone chooses to save received content in such a manner.
Prior to his actions being exposed, Goodman used this feature to send sexually explicit messages and unsolicited pictures of his genitals to young men — apparently without fear that proof of his actions would later emerge.
Jacob Bratcher is one of those young men. When Goodman still served in the Ohio legislature, he added the recent college graduate and young political writer on Facebook and immediately messaged him after the friend request was accepted. Based on messages provided to Mediaite, Goodman initiated the conversation with small-talk focused on shared political views.
At the time, Bratcher had no idea he was talking to a serial sexual harasser and was "flattered" that a then-state representative would be interested in "networking" with him. Weeks later, after his resignation and the release of the IJR expose detailing his history of misconduct, Goodman reappeared in Bratcher's direct messages — but this time, he used Snapchat.
He began the conversation by sending a close-up selfie with the caption, "What's up bro."
The two exchanged small talk, and Goodman was quick to make it known that he was "football drunk." At first, the conversation was casual, replete with Ohio State Buckeyes banter.
Then the flirting kicked in. "Pretty dressed up to be hanging alone," messaged Goodman in another selfie. "That scruff [of yours] is [drooling face emoji]."
At this point, Goodman jumped into what Donald Trump might refer to as "locker room talk." He told Bratcher he looked "tall," and began complimenting his size of his feet — because "[you] know what they say about big feet."
"I'm confused," replied Bratcher — attempting to steer the conversation away from the phallic. Goodman, undeterred by Bratcher's resistance to his advances, explained the obvious: "Size of your feet=size of your manhood… Hopefully it works for us."
Goodman then asked Bratcher if he had personally "checked" the "feet=size" equation, asked him if he was "packing," and if his comments were "too much," to which the young conservative replied: "I'm just wondering why you wanted to message me? I assumed it was because we're both young Republicans but if I was wrong you'll have to enlighten me."
The back-and-forth then moved from suggestive to explicit, as Goodman — while laying in bed with his shorts pulled down — replied with a torso-down picture of his exposed penis.
"Wasn't expecting unsolicited dick pics," responded Bratcher.
After conducting a Google search, Bratcher added, "Wait, I think I've heard of you before… Weren't you the senator from Ohio who was married and had sex with some guy in your office?"
Goodman admitted to the actions, but claimed the reports were just "partially true."
"I personally was an object of [Goodman's] repeated unwanted advances," Bratcher said in comments to Mediaite. "While I personally can't 'forgive and forget,' I can't help but pity a man who's now lost practically everything as a result of his own irresponsibility but still persists in those actions."
Despite Goodman's inappropriate behavior costing him his job and "family values" reputation, these consequences have clearly not deterred him from online harassment. While Bratcher's story was the most explicit told to Mediaite regarding Goodman's post-resignation harassment, it wasn't the only one.
Three other young men — who chose not to be named in this story due to privacy and retaliation reasons — all had similar experiences, with each occurring after Goodman left the Ohio House.
One college student alleged Goodman had sent unreciprocated lewd text messages to him on numerous occasions, another claimed the disgraced ex-lawmaker asked about his penis size, and a third accused him of asking personal questions of sexual nature despite the young man making it clear he was uncomfortable with the conversation.
While a legislator, Goodman's misconduct was extensive. At its most innocent, it involved messaging "You should be here… Getting your dick sucked," along with photos of his genitals to college students. At its worst, allegations included sexually assaulting an 18-year-old college student at a Washington D.C. fundraising event in 2015.
Goodman has not responded to Mediaite's request for comment, but he did recently share his thoughts on the scandal in a private message to one young man who asked to remain anonymous.
After asking what kind of underwear the young man was wearing and whether he was "freeballing," Goodman gave a candid assessment of his precarious situation.
"I'm more into dudes but not exactly into the gay lifestyle and am still very serious about my faith," he said in a message obtained by Mediaite. "So just trying to find a way to live both authentically and biblically."
Goodman added that "a lot of" what was reported in the media of his behavior "was not" true — despite now being caught with his pants down, literally, on more than one occasion.
[image via screengrab]
Follow the author on Twitter (@calebecarma).
Have a tip we should know? tips@mediaite.com