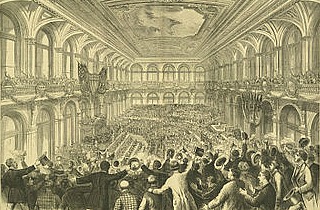 While liberal media outlets like MSNBC and Salon are busily crafting pep talks for embattled Democrats reeling from the backlash against the Affordable Care Act's heavy-handed implementation, many Democratic pundits and political analysts are less sanguine about the impact the ACA might have on Democrats' electoral prospects. Across the web, political analysts are warning that it may not be long before Democrats will have to pull the ACA to pieces in order to save liberalism itself from being permanently tarred in the public mind.

Already, as many political and policy analysts have observed, the rush to enact some form of "keep your plan" fixes to the ACA which would allow people who are losing their cancelled insurance plans to retain those plans has potentially undermined the financial viability of the entire program.
While it is too soon to tell how expansive the effects of the proposals which allow those who lost their insurance plans to refrain from having to enter the ACA's risk pools will be, it is clear now that both President Barack Obama and his allies in Congress are comfortable with proposals that dismantle key aspects of the health care reform law for short-term political gain.
Experts warn that more actions like these will be required in order to minimize the damage that the ACA can do to the Democratic brand in the medium and long-term.
"Anxious congressional Democrats face a fight-or-flight dilemma of their own," warns Vanity Fair magazine national editor and political correspondent Todd Purdum in Monday's POLITICO in a column entitled "Obamacare's threat to liberalism."
"In hindsight, it seems clearer that [Bill] Clinton's repositioning of the party as something more than an elitist defender of the welfare state bore enduring political fruit, and Obama has been forced to acknowledge that Clinton's ability to explain the complexities — and the merits — of the liberal cause exceeds his own," Purdum continues.
"Unless the HealthCare.gov website miraculously gets fixed by next month, there's a growing likelihood that over time, enough Democrats may join Republicans to decide to start over and scrap the whole complex health care enterprise," National Journal's Josh Kraushaar warns on Monday.
Kraushaar writes of the expanding ranks of Democrats in Congress advocating for immediate reforms to the ACA which would reduce the negative impact it is having on public perception of Democrats ahead of the 2014 midterm elections. He says that Democratic officeholders he has spoken with feel abandoned by and do not trust the White House to appropriately value the politically tenuous position they are in — heading into an election having to defend the ACA's implementation phase.
That's the type of thinking that could endanger a health care law that seemed untouchable several months ago. If the administration can't fix the myriad problems ailing the health care exchange website, and more sob stories emerge about people losing or paying significantly more for their insurance, it's an unsustainable formula for Democrats. There's not much time left on the election clock to turn things around. They've shown unfailing loyalty to the president, but unless he manages an unlikely fourth quarter comeback, those bonds could break — and the results could get ugly.
For his part, Forbes' Rick Ungar, a political commentator who describes himself as "left of center," welcomes the so-called collapse of modern liberalism as a moment of triumph for Clinton-era triangulation. Unger does not doubt that the ACA debacle will have negative consequences for the liberal brand, but he also sees it as an opportunity for centrist Democrats. Just as the failed campaigns of Walter Mondale and Michael Dukakis paved the way for a centrist Bill Clinton, so, too, will this latest failure pave the way for a more classic brand of Democratic politician to replace the unabashedly liberal Barack Obama.
"Today, with President Clinton the living embodiment of what is now very much viewed as the successful era of the New Democrats, who better to bring their principles back into full display than another candidate named Clinton?" Ungar asks, nodding toward 2016.
Former White House advisor and CNN host Van Jones declared on Sunday that the ACA represents an "existential threat" to the Democratic Party. It's virtually impossible to envision the world's oldest political party being undone by a botched effort to expand health insurance to 30 million. It is, however, possible to foresee such an embarrassment banishing the brand of liberalism that Ungar identifies as being repudiated by events into the wilderness for a generation or more.
It is not really liberalism as an ideology that some columnists fear may be discredited by the ACA, but Obama's style of progressive liberalism. But for those political analysts who placed so much hope in the Obama presidency and who bound their own political identities up in the president's for a half-decade, the effects of the ACA's failure are just as devastating.
[Photo via Wikipedia – 1876 Democratic National Convention]
— —
> >Follow Noah Rothman (@NoahCRothman) on Twitter
Have a tip we should know? tips@mediaite.com