Facepalm: Media Irresponsibly Provides Bundys, Criminal Militia Huge National Platform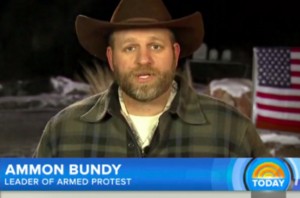 So let's say an armed gang like the Crips or or Hell's Angels took over a federal building in a town near you. Let's also say said gang declared they weren't leaving. And then its gang spokesman said this to Natalie Morales of NBC's Today Show this morning:
"The only violence that, if it comes our way, will be because government is wanting their building back. We're putting nobody in harm's way. We are not threatening anybody."
In other words, our armed militia means no harm unless the law does its job and takes the building it, you know, owns back. Pretty ominous stuff. And methinks the leader of the Crips or Hell's Angels wouldn't be afforded the same courtesy regarding media coverage if it took over a federal building. Yet here we are on the first busy day of the new year with wall-to-wall coverage of the standoff around a federal building in the Malheur Wildlife Refuge — a remote facility in the Oregon high desert … all as Ammon Bundy, gang spokesman, is granted more interviews on virtually every national television network and therefore a platform to share what his perspective to millions.
And we're not just talking NBC, but ABC, CBS, CNN, the Associated Press, local media … you name it (adding: Fox Monday night on The Kelly File). Ammon Bundy — the son of the infamous Cliven Bundy who dominated the news cycle for weeks in April and May of 2014 during a standoff then — has now taken the Donald Trump mantle of media domination and will likely continue to until this standoff is over. Note: Bundy has declared the group "will stay for years" if it has to, meaning this could unfortunately end under not-so-peaceful terms. It also means the story will have legs — particularly in the cable news world — which was practically invented for this kind of scenario.
So the question is: Should the media give Bundy a platform while occupying a federal building? Yes, we've seen VFW halls that are more impressive than this particular structure in Oregon, and yes, nobody has been taken hostage as said occupation began during a holiday weekend. But that's not the point, because Bundy and those he represents are criminals right now. They've also stated they're willing to, "kill or be killed" if necessary, per Ryan Bundy (Ammon's brother also involved in the standoff) in an interview with Ian Kullgren of The Oregonian.
I talked to Ryan Bundy on the phone again. He said they're willing to kill and be killed if necessary. #OregonUnderAttack

— Ian Kullgren (@IanKullgren) January 3, 2016
You can agree or disagree with Bundy and his militia regarding the role of government, federal lands and the way ranchers are treated. But peaceful protest is one thing. Armed takeover of a federal building is quite another. And the media far and wide treats affords this group a huge megaphone instead of the way it should be treated:
Like the criminals they are.
With that label should be consequences…
From a media perspective, it should mean not providing a platform of any kind until this standoff is over. Because Bundy and his gang lost the right to free speech the moment they broke the law.
— —
Follow Joe Concha on Twitter @JoeConchaTV
This is an opinion piece. The views expressed in this article are those of just the author.