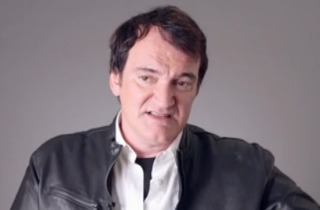 It it may no longer shock anyone that film director Quentin Tarantino isn't afraid to speak boldly on touchy subjects, even when facing a potential impact to his movies' commercial prospects. During a recent promotional interview for The Hateful Eight, Tarantino had a few choice thoughts on the Confederate Flag's place in modern America.
While the flag has long been associated with both Southern heritage and white supremacy, the latter element saw reborn controversy ever since it was tied to a white man who went on a rampage in South Carolina that killed 9 black churchgoers. The subject prompted a flurry of debate in the months that followed.
Tarantino weighed in recently, telling The Telegraph that he thought it was "about damn time" people started reconsidering the image's place in modern society.
"All of a sudden, people started talking about the Confederacy in America in a way they haven't before. I mean, I've always felt the Rebel flag was some American Swastika," Tarantino said. "And people are starting to question about stuff like statues of Bedford Forrest [Confederate general and Ku Klux Klan Grand Wizard] in parks. Well, it's about damn time, if you ask me."
The subject came up in relation to The Hateful Eight, which takes place a few years after the Civil War, and which was directed by Tarantino in part to reflect the period's racial friction. The director said he had to make unusual edits to the script because it was "retroactively too on-the-nose" in certain parts, and that America's current political climate reminds him of those post-war social divisions.
I knew I was going to deal with the Civil War. But I didn't know it would end up being so serious when it came to that issue…I was realizing when I was watching it about weeks ago that this could almost be a post-apocalyptic movie, to some degree or another. It's like this frozen wasteland, and the apocalypse has destroyed every semblance of their society and their way of life, and these survivors are huddled together in this pitiless wasteland shelter. And suddenly they're all blaming each other for the apocalypse, but the apocalypse is the Civil War.
[h/t Entertainment Weekly]
[Image via screengrab]
— —
>> Follow Ken Meyer (@KenMeyer91) on Twitter
Have a tip we should know? tips@mediaite.com