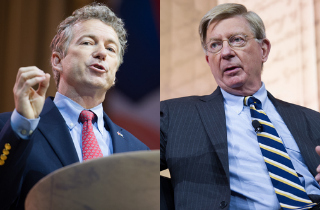 Senator Rand Paul (R-KY) and Fox News contributor George Will both made claims this weekend suggesting Ebola is spread more easily than the medical community and the Obama administration have led the public to believe — claims that did not sway the fact checkers.
On Fox News Sunday yesterday, Will alleged some scientists had said the virus could be spread via a sneeze or cough, effectively making the virus airborne in close quarters.
PunditFact rated the claim completely false, chiding Will for taking "medical commentary out of context":
The medical literature says sneezing and coughing are not part of the disease's typical symptoms, and experts we reached drew a bright line between what might happen in a hospital isolation ward and a person with early symptoms of Ebola before he or she is admitted.

There is no evidence that Ebola has been transmitted in the general public through coughing or sneezing.
Meanwhile, Paul said that the administration compared the spread of Ebola to that of AIDS, suggesting you couldn't get it through normal bodily contact (in fact the CDC compared the possible severity of the outbreak to AIDS, not the transmission of the virus). He also intimated that Obama's statement that you couldn't get Ebola "on a bus" conflicted with the CDC's monitoring of passengers who flew on a plane with an infected health care worker.
Glenn Kessler, the Washington Post's fact checker, gave him three Pinocchios (out of four):
Paul's accusations that the administration has not been accurate in its descriptions of Ebola do not stand up to scrutiny. The administration never suggested that Ebola was transmitted like AIDS, only that it was a public-health emergency of the same potential scale.

Both AIDS and Ebola are not airborne viruses, but it should be clear to anyone watching the news that Ebola is spread differently from AIDS, given the required attire of hospital staff treating Ebola patients.

Indeed, administration officials, from the president on down, have made it clear that people should not touch Ebola patients. Paul's citation of a three-foot zone, in fact, comes directly from the CDC's informational material on exposure risks. In the meantime, one can hardly fault the CDC for wanting to be extra careful, even if the risks are extremely low, by contacting passengers on the plane, given that it was a mistake to allow the nurse to travel on public transportation in the first place.
[Image via Christopher Halloran / Shutterstock.com / Christopher Halloran / Shutterstock.com]
——
>> Follow Evan McMurry (@evanmcmurry) on Twitter
Have a tip we should know? tips@mediaite.com