'Facts Are Not Partisan': Dan Rather Presents the One Question Every GOP Lawmaker Must Be Asked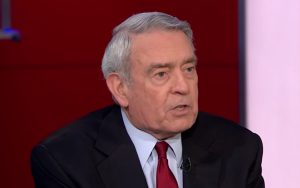 Venerable newsman Dan Rather is highly perturbed by these "extraordinary times" during this transition of power in Washington D.C. from one administration to the next; the former CBS Evening News anchor took to his own Facebook page Sunday to slam the incoming team and the web of "lies" that have been perpetuated in the first few hours of the Trump era.
Rather targeted both Kellyanne Conway and Sean Spicer — without mentioning either of them by name — in his lengthy post, noting simply that extraordinary times call for extraordinary measures. He wrote in part Sunday:
When you have a spokesperson for the president of the United States wrap up a lie in the Orwellian phrase "alternative facts"…

When you have a press secretary in his first appearance before the White House reporters threaten, bully, lie, and then walk out of the briefing room without the cajones to answer a single question…

When you have a President stand before the stars of the fallen CIA agents and boast about the size of his crowds (lies) and how great his authoritarian inaugural speech was…

These are not normal times.
Rather's focus is, of course, on the role of press and the mainstream media whose strained relationship with the White House is at an all-time place of uncertainty. Rather called for the press — as well as the American people — to stand up and decry what is a lie as soon as it is apparent.
He also presented the one question that he thinks every Republican establishment politician needs to be grilled on during cable news and network appearances. Rather said:
[H]ere is what I think everyone in the press must do. If you are interviewing a Paul Ryan, a Mitch McConnell, or any other GOP elected official, the first question must be "what will you do to combat the lying from the White House?" If they dodge and weave, keep with the follow ups. And if they refuse to give a satisfactory answer, end the interview.
Rather says it is the GOP apparatus who can be most impactful amid this controversy. "Without their support, Donald Trump's presidency will falter," he wrote.
On Sunday's Meet The Press, Conway told Chuck Todd that concerns over "falsehoods" were being blown out of proportion. "Don't be so overly dramatic about it, Chuck. You're saying it's a falsehood, and they're giving — our press secretary, Sean Spicer, gave alternative facts to that," she said to the instant mockery of media publications; newly-installed press secretary Sean Spicer was combative in his first presser this weekend, slamming reports over inauguration crowd size and reading off an angsty and derogatory statement against the media.
Have a tip we should know? [email protected]