Fake News Writer Feels Trump Got Elected Because Trump Supporters Kept Sharing His Articles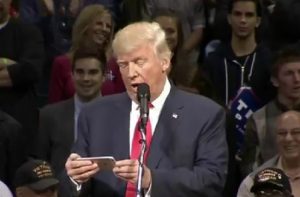 One thing that has been widely discussed in the aftermath of President-elect Donald Trump's shocking victory last week has been the impact of purposely inaccurate articles that were widely shared on social media. Buzzfeed noted that in the runup to Election Day, the 20 most shared political news stories from fake news sources outperformed the top 20 from legit media outlets on Facebook.
The Washington Post spoke to one of the leading fake news writers to get his perspective on hoax stories and if they did have an affect on this election. Since Trump's victory, Google and Facebook have said they will expand efforts to weed out fake news sites in order to help stop them from becoming viral.
Paul Horner, who has been writing viral fake news pieces for a while now, told the Post that believes "people are definitely dumber" and never fact-check anything when it comes to sharing his stories thousands of times. He also noted that he felt responsible for Trump's victory because his articles were constantly being cited by Trump supporters, including Corey Lewandowski, Trump's former campaign manager.
My sites were picked up by Trump supporters all the time. I think Trump is in the White House because of me. His followers don't fact-check anything — they'll post everything, believe anything. His campaign manager posted my story about a protester getting paid $3,500 as fact. Like, I made that up. I posted a fake ad on Craigslist.
When asked why he would write fake stories, such as the paid protester one, Horner said he wanted to show just how insane these beliefs were and how once they were fact-checked, those sharing his stories would look worse for doing so. However, he now realizes that nobody fact-checks anymore, so "instead of hurting the campaign," he thinks he "helped it."
When asked why he kept doing it if he realized it was helping Trump and went against his own political beliefs, Horner said he didn't think it was possible for Trump to get elected. At the same time, he admitted a Trump presidency is good for business and that in his experience articles aimed at conservatives tend to be viewed more and are thus more profitable.
Finally, Horner explained that he is now worried about Google and Facebook's crack down on fake news since he earns most of his money from Google AdSense. However, he doesn't think Facebook and Google will just shut down advertising on these kinds of sites because they make too much money from them.
[image via screengrab]
–
Follow Justin Baragona on Twitter: @justinbaragona
Have a tip we should know? tips@mediaite.com