Corey Lewandowski: Comey's Renewed Email Probe Helped Trump Clinch Election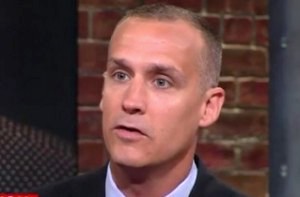 It would seem that Donald Trump's first campaign manager and Hillary Clinton's team can agree on something: James Comey determined the results of the 2016 election.
In a speech that was picked up by The Telegraph, Corey Lewandowski spoke on Wednesday night about what it was like when the Trump campaign found out that FBI director was launching a new review into Clinton's emails in the final days of the election. Lewandowski said that the news emboldened the Trump team, and allowed them to regain momentum by talking about how Clinton is held to a different legal standard than other Americans.
"What that did was remind people that there are two different rules in Washington – those of the elites and the privileged, and those for everybody else," Lewandowski said. "When Comey moved forward with that investigation… it allowed the campaign a little spring in their step."
Per The Telegraph:
"In those last eleven days, Mr. Trump was exceptionally disciplined. He used a teleprompter, and he did less media. The team used social media like no campaign in history. And then, Donald Trump won the election campaign by the largest majority since Ronald Reagan in 1984."
Approximately one week after Comey's letter to Congress, the FBI director followed up and said they found no new relevant emails on the device shared between Huma Abedin and her husband, disgraced former Congressman Anthony Weiner. In the days following their defeat, Clinton's team have put the blame on Comey and said that his first letter sunk the momentum they had going for them at the time.
Lewandowski took a job as a CNN contributor after he was fired by Trump, though he stayed in regular contact with the campaign. Lewandowski has quit his job with the network and it is possible that he will hold a position in the President-Elect's administration.
[Image via screengrab]
— —
>> Follow Ken Meyer (@KenMeyer91) on Twitter
Have a tip we should know? tips@mediaite.com