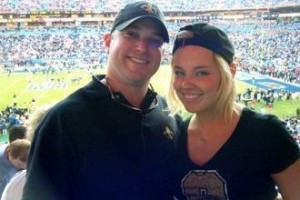 Conservative blogger Gateway Pundit is up in arms over the failure of the national media to report on the beating of Allee Bautsch and her boyfriend as they left a Bobby Jindal event Friday night. Bautsch, Finance Director for the Jindal campaign, suffered a broken leg, while her boyfriend received a concussion and a broken nose and jaw.
According to Jindal's spokesman, there were no Palin pins. Updates after the jump, including a press release from the New Orleans Police Department.
A more controversial element of this story is the allegation that the attack was sparked by the Sarah Palin pins the couple wore. So far, this part of the story has only been reported through an unnamed source who visited the couple in the hospital.
Several blogs also note the presence of protesters outside the event, with Gateway Pundit specifically pointing to Anarchists, but a spokesman for Jindal told the Baton Rouge Advocate, "While there were protestors around at that time, we are not aware of any evidence that the individuals involved in the altercation were protestors."
The shaky sourcing explains why the national media have not reported the Palin angle, but with the SRLC focusing attention on New Orleans last week, the beating itself surely should have been news. We are currently trying to confirm other elements of this story, and will update it as facts become available.
Update: Michelle Malkin reports that Jindal's spokesman told her there were no Sarah Palin pins involved.
Update 2: Jindal spokesman Kyle Plotkin sent us the following statement:
Friday night, the Governor's campaign fundraiser, Allee Bautsch, and her boyfriend were involved in an altercation in the French Quarter with a group of people.

While there were protestors around at that time, we are not aware of any evidence that the individuals involved in the altercation were protestors.

Allee's leg was badly broken in the incident, she has had surgery, and she is facing a recovery time of two to three months. Her boyfriend had a concussion, and also a fractured nose and jaw. They are both expected to fully recover.

NOPD is investigating the incident and we are refraining from further comment to allow them to fully investigate and ensure justice is done. Our prayers are with Allee. She is a strong person and we are sure she will make a speedy recovery.
At this point, there doesn't seem to be enough information available to draw any conclusion, other than that Ms. Bautsch and her boyfriend deserve to be in the thoughts and prayers of all decent people, and their attackers deserve swift justice.
Update 3: New Orleans PD has issued a statement that says the attack was perpetrated by 3-5 men, one of whom was described as " a Caucasian male who appeared to be dirty, in his 20s, 6'1″ tall, thin build with a thin face. He had a beard and auburn color hair in a pony tail."
According to the statement, the attackers began by making "derogatory comments," then attacked when Bautsch's boyfriend turned towards them.
Meanwhile, Gateway Pundit and Media Matters took this as an opportunity to engage in a pissing contest. I call it a draw, but with extra points to Media Matters for knowing better.
While Media Matters correctly points out that Gateway Pundit has not updated his post to reflect Michelle Malkin's confirmation that there were no Sarah Palin pins, they also incorrectly credit Free Republic as the source of the Palin pin story:
Gateway Pundit's fact-free claim was that a young GOP fundraiser and her boyfriend were "savagely beaten for wearing Palin pins" over the weekend in New Orleans. And what was Gateway Pundit's source for the "Palin pins" scoop? That bastion of journalism, Free Republic.
Of course, Free Republic's post cites Louisiana blog The Hayride.
Gateway Pundit links to the Media Matters post, but still doesn't add the Malkin update, instead saying this:
That's too bad. It looks like the radicals at Media Matters have egg on their face once again.
The motive for these attacks is still unknown, and it's certainly not a stretch that the catalyst was politics. That's a part of the story that will continue to develop. GP seems to think this was the work of anarchists, who, if memory serves, were the ones who soiled The Big Lebowski's rug. Or maybe that was nihilists.
In any case, I give Media Matters and Gateway Pundit a shared Gold Massengill Medal here for making the attack itself an almost completely tertiary issue. This woman is 25 years old, she had her leg badly broken, she's looking at 2 to 3 months recovery time. I don't think anyone could put it better than Michelle did:
Something awful happened to [Allee] Bautsch and her boyfriend. Right now, they deserve prayers and well wishes — not a hysterical political circus — while the police investigation continues.
That isn't to say that the motive for the attack is irrelevant, or that an examination of its larger meaning is unwarranted, but to devolve this into pure political point-scoring is to ignore the human element of the story, and with it, your own humanity.
Here is the full press release from NOPD:
New Orleans, LA – Superintendent Warren J. Riley and members of the New Orleans Police are asking the public's assistance in locating and identifying several suspects wanted in connection with an incident that occurred in the 600 block of Saint Louis Street. The incident occurred Friday April 9, 2010, at approximately 10:45 P.M.

According to investigators, the victims were walking from a function at a restaurant in the 400 block of Royal Street. When they entered the 600 block of Saint Louis Street, three to five Caucasian males made derogatory comments to the 25-year-old female and her 28-year-old male friend. When the male victim turned towards the group of men, one or more of the suspects struck the victim several times. At some point the female victim fell to the ground and screamed. The suspects then fled on foot. Officers in the area heard the female screaming and responded to the scene and broadcasted a description of the suspects and requested Emergency Medical Paramedics. As the female was waiting for EMS, she used her purse as a pillow. When the victim was in the ambulance, she discovered her purse was missing.

The female was transported to a hospital where she was treated for a broken leg. The male victim was also transported to the hospital and was treated for a mild concussion, fractured jaw and nose.

One of the suspects was described as a Caucasian male who appeared to be dirty, in his 20's, 6'1" tall, thin build with a thin face. He had a beard and auburn color hair in a pony tail. He was wearing a light color T shirt and dark color pants.

The incident is on-going and detectives are in the process of determining if any surveillance cameras captured the incident.

Investigators are currently working on the incident and at this time the report is not available. Notification will be made to the media when the report is complete and ready for dissemination.

Investigators are in the process of identifying the suspects, as well as a motive. Eighth District Detective Sergeant Nicholas Gernon is in charge of the investigation. Citizens with information that can help solve this crime are asked to call CRIMESTOPPERS at 822-1111, toll-free 1-877-903-STOP(7867). You could receive a cash reward of up to $2,500.00 for information leading to the arrest and indictment of the responsible person(s). You do not have to give your name nor testify to receive the reward.
Have a tip we should know? tips@mediaite.com