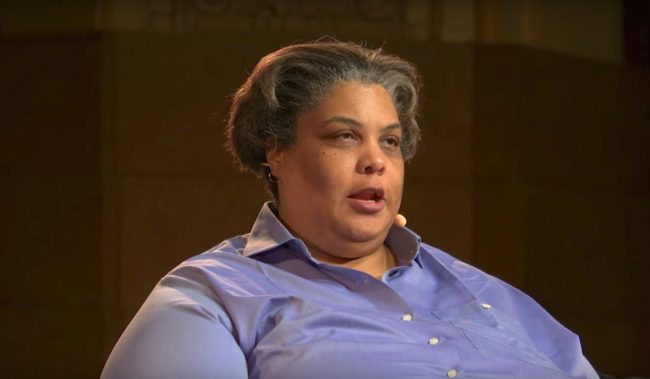 Twitter is a strange place.
Some people use it for news, some people for creeping, and some people as a cheaper alternative to therapy.
In that latter camp it seems falls Roxane Gay. The feminist icon, New York Times contributor, and bestselling author appears to have a strange obsession — with her ankles.
Since 2011, Gay has tweeted dozens of times about her ankles. Over the years she has addressed their various states of harmony and distress and random musings which often appears apropos of nothing.
My ankle is throbbing angrily.

— roxane gay (@rgay) April 2, 2016
I'm really tired. And my ankle hurts. And I am really tired.

— roxane gay (@rgay) March 28, 2017
My ankle hurts.

— roxane gay (@rgay) October 22, 2015
I can feel the titanium hardware in my ankle. Sext.

— roxane gay (@rgay) January 26, 2015
Googling about my ankle swelling.

— roxane gay (@rgay) December 10, 2014
Girl with broken ankle can't catch a break. News at 11.

— roxane gay (@rgay) December 1, 2014
@xtx33 The Ankle is the best part

— roxane gay (@rgay) August 18, 2011
The great majority of the tweets occurred after a fateful moment in October 2014 when Gay broke her ankle.
Well. I passed out and when I woke up my ankle was broken and now I am in the ER. Great night.

— roxane gay (@rgay) October 11, 2014
A complete list of Gay's ankle coverage is available here.
It's hardly the first time the feminist author has dipped into unorthodox Twitter usage. Back in January, 2016, Gay tweeted that she had "explained how damaging it is to enforce the gender binary" to a McDonald's worker who asked whether her Happy Meal was for a boy or a girl. The tweet was later deleted.
Gay, a revered figure in feminist circles, was back in the news last month with her new book Hunger: A Memoir of (My) Body
[image via screengrab] 
Follow Jon Levine on Twitter / Facebook.
Have a tip we should know? tips@mediaite.com