Flashback: Jeff Jarvis' Revealing And Hand Typed Entertainment Weekly Pitch From 1988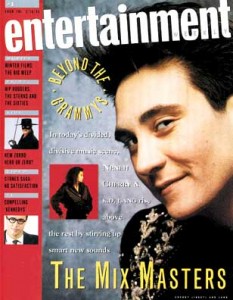 While the internet is virtually going bezerk over news that Arianna Huffington is now Michael Arrington's boss, it's nice to take a break to remember those who have come before us, carving their way through the competitive world of media before any of us had to lose sleep over SEO or slideshows. So, in that vein, here's a pretty cool bit of media history: We've been able to find Jeff Jarvis' original pitch for Entertainment Weekly, from way back in 1988.
The 8-page pitch recounts how Jarvis first saw the need for an entertainment news magazine in January of 1984, but that, four years later, the ideal time to launch the magazine presented itself. Nineteen ninety-eight, writes Jarvis proved the right point to make his idea a reality, specifically the idea to help readers navigate through the confusing field of entertainment at a time when "half of us have cable" and "65 percent of us have VCRs." Two years later, Entertainment Weekly officially launched, with singer k.d. lang as its cover star.
Here's a choice paragraph from the pitch, painting it as a sort of Rolling Stone for the people who now read Rolling Stone:
Entertainment Weekly also keeps us hip. Even if I don't buy a lot of records in a year — and I don't — I still want to know what's new, what's hip, what's hot. Entertainment Weekly will tell me and millions of baby boomers like me. It will help keep me young. It will keep up [sic] painlessly hip. We need that.
The pitch also came out at a time when People began evolving from, as Jarvis phrased it, "a show based show business weekly" to a weekly news magazine, with a publication like Entertainment Weekly poised to take hold where People was leaving off (think Victoria Principal cover stories).
One of the most fascinating bits of the pitch (well, to a blogger, at any rate) is just how very blog-like Jarvis' original concept for Entertainment Weekly happened to be, particularly with its proposed section devoted to the latest gadgets. And then there's, well. This:
The magazine will not speak with one voice but with the many distinctive voices of its critics, its reporters, its readers and even its enemies.
Also, does this remind you of any giant network of verticals worth, say, something like $315 million?
But now the good news. As I said in our original prospectus: Critics are cacti. They require little care or watering. Thus we believe that by its nature, Entertainment Weekly should be inexpensive to produce. First because it is filled with writing by people who should need little editing. Second because it will have the most predictable and thus managable [sic] content of any magazine in the company. And third because we are bound and determined it make it inexpensive.
The more things change, the more they stay the same. Read the pitch for yourselves as you find yourself secretly missing having to deal with gleaming black-brown ribbons of cassette tape strewn all over your car seats, or adjusting the "fuzz" on your VCR to watch that episode of Harry and the Hendersons you accidentally taped over your daughter's birthday video. Simpler times, my friends. Those were simpler, more Victoria Principal-filled times.
Check it out for yourselves.
Have a tip we should know? tips@mediaite.com