FLOTUS Spox Slams New Trump Book Over Melania Anecdote: Belongs In 'Bargain Fiction Section'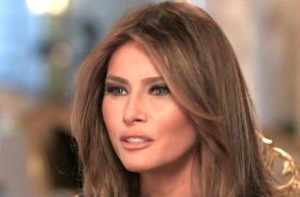 A new book with a lot of apparent insider information into Trumpworld is sending shockwaves throughout the political world.
The most recent character in this drama to emerge with a statement is Melania Trump.
Excerpts from Michael Wolff's Fire and Fury: Inside the Trump White House paint Melania out as someone who didn't even want to be First Lady and who wished her husband would lose:
"Melania Trump, who had been assured by her husband that he wouldn't become president, could return to inconspicuously lunching. Losing would work out for everybody. Losing was winning.

Shortly after 8 p.m. on Election Night, when the unexpected trend — Trump might actually win — seemed confirmed, Don Jr. told a friend that his father, or DJT, as he calls him, looked as if he had seen a ghost. Melania was in tears—and not of joy."
The first lady denied these claims Wednesday with a passionate response through a spokesperson saying it will "be sold in the bargain fiction section":
Melania Trump spox on "Fire & Fury":

"The book is clearly going to be sold in the bargain fiction section. Mrs. Trump supported her husband's decision to run for President and in fact, encouraged him to do so. She was confident he would win and was very happy when he did."

— NBC Politics (@NBCPolitics) January 3, 2018
In addition to Melania Trump; Donald Trump, Sarah Sanders, and Donald Trump Jr. have all responded to claims in the book, including from Steve Bannon.
[image via screenshot]
Have a tip we should know? tips@mediaite.com