'Trump Didn't Want to Win': The Most Insane Anecdotes From New Book on 2016 Campaign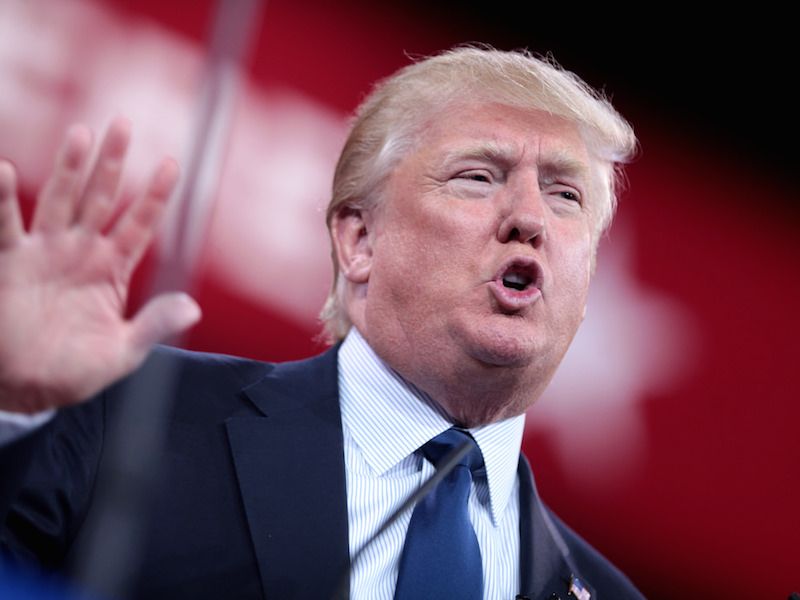 Michael Wolff made waves twice today with sneak-peaks of his upcoming book about the 2016 election, included an excerpt just published by New York magazine sure to make those waves a tsunami.
The Guardian received major attention on Wednesday when they released portions of Wolff's book in which Steve Bannon made some highly-critical comments about how badly Trump campaign officials handled their 2016 meeting with a Kremlin lawyer. The preview also attracted attention because of how the Breitbart chief offered stinging contempt and a pessimistic outlook for Donald Trump Jr. and Jared Kushner.
A new, much larger portion of Fire and Fury: Inside the Trump White House has been released by New York Magazine, and frankly…it's one hell of a read about Trumpworld. It's difficult to decide which parts are the most absolutely bonkers, but I'll do my best:
1. Donald Trump didn't want to be president, and his campaign planned to lose the election
Near the end of the election, former campaign manager Kellyanne Conway spoke with several prominent news network figures in the hopes that someone would give her a job after November 8. According to Wolff, Republicans were prepared to blame Reince Priebus for their party's loss, and several members of Trump's inner circle (including the man himself) agreed that they were about to lose, which would be best for everyone.
As the campaign came to an end, Trump himself was sanguine. His ultimate goal, after all, had never been to win. "I can be the most famous man in the world," he had told his aide Sam Nunberg at the outset of the race. His longtime friend Roger Ailes, the former head of Fox News, liked to say that if you want a career in television, first run for president. Now Trump, encouraged by Ailes, was floating rumors about a Trump network. It was a great future. He would come out of this campaign, Trump assured Ailes, with a far more powerful brand and untold opportunities.

"This is bigger than I ever dreamed of," he told Ailes a week before the election. "I don't think about losing, because it isn't losing. We've totally won."
There was also this bit about Michael Flynn, who recently pled guilty to lying to the FBI for lying about his Russian contacts.
Michael Flynn, the retired general who served as Trump's opening act at campaign rallies, had been told by his friends that it had not been a good idea to take $45,000 from the Russians for a speech. "Well, it would only be a problem if we won," ­Flynn assured them.
2. The Trump campaign was NOT ready for the transition
Wolff writes that Trump Jr. told a friend that his father became increasingly horrified on Election Night, and Melania Trump was crying as her husband's victory became clear to the nation. However, Bannon observed that Trump quickly transitioned into the mindset that he "deserved to be, and was wholly capable of being, the president." The result was a botched presidential transition marked by "chaos and dysfunction," and it also became evident that Trump's political knowledge was lacking:
Few people who knew Trump had illusions about him. That was his appeal: He was what he was. Twinkle in his eye, larceny in his soul. Everybody in his rich-guy social circle knew about his wide-ranging ignorance. Early in the campaign, Sam Nunberg was sent to explain the Constitution to the candidate. "I got as far as the Fourth Amendment," Nunberg recalled, "before his finger is pulling down on his lip and his eyes are rolling back in his head."

The day after the election, the bare-bones transition team that had been set up during the campaign hurriedly shifted from Washington to Trump Tower. The building—now the headquarters of a populist revolution—­suddenly seemed like an alien spaceship on Fifth Avenue. But its otherworldly air helped obscure the fact that few in Trump's inner circle, with their overnight responsibility for assembling a government, had any relevant experience.

Ailes, a veteran of the Nixon, Reagan, and Bush 41 administrations, tried to impress on Trump the need to create a White House structure that could serve and protect him. "You need a son of a bitch as your chief of staff," he told Trump. "And you need a son of a bitch who knows Washington. You'll want to be your own son of a bitch, but you don't know Washington." Ailes had a suggestion: John Boehner, who had stepped down as Speaker of the House only a year earlier.

"Who's that?" asked Trump.
Granted, its quite likely that Trump DOES know who John Boehner is. He has mentioned Boehner by name plenty of times in the past, and its possible he was just trying to mock the former speaker.
3. Ann Coulter tried to talk Trump out of giving his kids political appointments
When Trump tried to prepare his White House, he leaned towards his family and other familiar faces to fill several key roles, even though many of them had little to no experience relevant to the positions that needed filling. As it would seem, conservative commentator and Trump superfan Ann Coulter tried to tell the president that making his son-in-law chief of staff would be a terrible idea:
Trump had no interest in appointing a strong chief of staff with a deep knowledge of Washington. Among his early choices for the job was Kushner—a man with no political experience beyond his role as a calm and flattering body man to Trump during the campaign.

It was Ann Coulter who finally took the president-elect aside. "Nobody is apparently telling you this," she told him. "But you can't. You just can't hire your children."
Trump also considered giving Bannon the job, though he changed his mind after that proposal was unanimously condemned among his advisers.
4. Rupert Murdoch called Trump a "fucking idiot"
Shortly after the election, Trump reportedly tried to cozy up to Rupert Murdoch, though Wolff notes that the media magnate used to think of the real-estate mogul as a "charlatan and fool." At one point, Murdoch tried to get Trump to soften his position on H-1B visas and certain aspects of immigration policy. Trump didn't seem to take that advice seriously, however, and Murdoch was not happy about it.
"Oh, great, just great," said Trump. "These guys really need my help. Obama was not very favorable to them, too much regulation. This is really an opportunity for me to help them."

"Donald," said Murdoch, "for eight years these guys had Obama in their pocket. They practically ran the administration. They don't need your help."

"Take this H-1B visa issue. They really need these H-1B visas."

Murdoch suggested that taking a liberal approach to H-1B visas, which open America's doors to select immigrants, might be hard to square with his promises to build a wall and close the borders. But Trump seemed unconcerned, assuring Murdoch, "We'll figure it out."

"What a fucking idiot," said Murdoch, shrugging, as he got off the phone.
Wolff also wrote that Trump ally and former Fox News chief Roger Ailes spoke with Bannon at one point to discuss ways to lead Trump into a fight with Murdoch.
"How's the kid?" asked Ailes, referring to Kushner.

"He's my partner," said Bannon, his tone suggesting that if he felt otherwise, he was nevertheless determined to stay on message.

"He's had a lot of lunches with Rupert," said a dubious Ailes.

"In fact," said Bannon, "I could use your help here." He then spent several minutes trying to recruit Ailes to help kneecap Murdoch. Since his ouster from Fox over allegations of sexual harassment, Ailes had become only more bitter toward Murdoch. Now Murdoch was frequently jawboning the president-elect and encouraging him toward Establishment moderation. Bannon wanted Ailes to suggest to Trump, a man whose many neuroses included a horror of senility, that Murdoch might be losing it.

"I'll call him," said Ailes. "But Trump would jump through hoops for Rupert. Like for Putin. Sucks up and shits down. I just worry about who's jerking whose chain."
5. Jared and Ivanka have presidential ambitions
Wolff's book had several excerpts in which Ivanka Trump teased her father, but the most interesting part about she and her husband made a deal that she would run for president someday.
The First Children couple were having to navigate Trump's volatile nature just like everyone else in the White House. And they were willing to do it for the same reason as everyone else—in the hope that Trump's unexpected victory would catapult them into a heretofore unimagined big time. Balancing risk against reward, both Jared and Ivanka decided to accept roles in the West Wing over the advice of almost everyone they knew. It was a joint decision by the couple, and, in some sense, a joint job. Between themselves, the two had made an earnest deal: If sometime in the future the opportunity arose, she'd be the one to run for president. The first woman president, Ivanka entertained, would not be Hillary Clinton; it would be Ivanka Trump.

Bannon, who had coined the term "Jarvanka" that was now in ever greater use in the White House, was horrified when the couple's deal was reported to him. "They didn't say that?" he said. "Stop. Oh, come on. They didn't actually say that? Please don't tell me that. Oh my God."
Bannon might be onto something by scoffing at Jarvanka's presidential ambitions. According to Wolff, when Katie Walsh, former deputy chief of staff, asked Kushner a very simple — but quite important — question at the beginning of Trump's presidency, he couldn't provide an answer:
"What are the three priorities of this White House?"

It was the most basic question imaginable — one that any qualified presidential candidate would have answered long before he took up residence at 1600 Pennsylvania Avenue. Six weeks into Trump's presidency, Kushner was wholly without an answer.

"Yes," he said to Walsh. "We should probably have that conversation."
BONUS: Bannon is certain Trump Jr. took Russian lawyer and entourage to meet with father
NBC's Peter Alexander reported a quote from Wolff's book where Bannon says that there was a "zero" percent probability that Trump Jr. did not take Natalia Veselnitskaya and her team to meet with his father.
SIREN: "Steve Bannon was certain that after the (July 2016 Trump Tower) meeting, Trump, Jr. had taken the participants to see his father," per excerpts from new Michael Wolff book, "Fire & Fury."
Trump has claimed he was unaware any meeting with Russians took place.

— Peter Alexander (@PeterAlexander) January 3, 2018
NEW: Here's the Bannon quote regarding the July 2016 Trump Tower meeting: "The chance that Don Jr. did not walk these Jumos up to his father's office of the 26th floor is zero," per "Fire & Fury." (pg. 255)

— Peter Alexander (@PeterAlexander) January 3, 2018
Read the whole thing here…Seriously, do it. It's incredible.
[Image via screengrab]
— —
>> Follow Ken Meyer (@KenMeyer91) on Twitter
Have a tip we should know? tips@mediaite.com