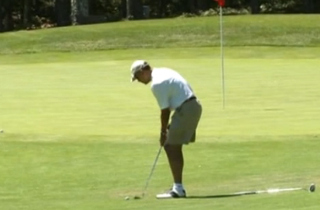 Former Deputy White House Press Secretary and current Priorities USA senior strategist Bill Burton wrote in Politico Magazine Monday that the criticism of President Barack Obama's rounds of golf during his vacation the last two weeks has been misplaced, first because even executives need time off to recharge, but more because the president is never actually "on vacation," instead constantly monitoring domestic and international crises.

Burton recalled the criticism Obama received when the attempted bombing of a jetliner in 2009 occurred while he was in Hawaii, and described the improvised war room Obama and aides set up in a hotel room, with everybody receiving briefings at 2 a.m. thanks to the time difference, often on no coffee because the local Starbucks was closed, and all over Christmas:
RELATED: CNN's Jeffrey Toobin: Obama 'On Vacation from Hell'
The president was not a passive bystander. He led America's response to the apparent terrorist attack, soaking up new information as it came in, running meetings and issuing orders. As a regular matter of course, vacation or not, the president is briefed on intelligence every day. In this instance, he was receiving twice-daily updates on the situation in Detroit as well as three-times-daily updates on matters around the world from the Situation Room. As events developed, the president was directing his national security team—cabinet secretaries, intelligence officials and the military. He was awash in reports from the government and from the media. The president can be, and is, as engaged as is required, even when he is on "vacation."
Burton also acknowledged that Obama's predecessor received criticism over his vacations as well (as did Ronald Reagan).
"I don't remember, but I assume that I was one of the many Democrats who gleefully took shots at President George W. Bush for the time he spent at Crawford—and if so I regret it," Burton wrote. "Presidents are better for having time out of Washington, even better for time away with their families."
[h/t Politico Magazine]
[Image via screengrab]
——
>> Follow Evan McMurry (@evanmcmurry) on Twitter
Have a tip we should know? tips@mediaite.com