Following Backlash, College Reverses Decision Not to Fly American Flag on Campus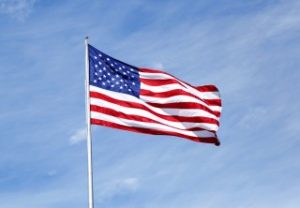 Last month, a Massachusetts liberal arts college sparked controversy over its decision to temporarily not fly the American flag — or any other flag — on its campus. Hampshire College decided on this action after it lowered the Stars and Stripes to half-staff following Election Day. This led to the flag being found burned on Veterans Day, leading to the school president to nix all flag flying.
Well, this caused outrage in the area and across the nation as the story gained traction. Fox News' Jesse Watters attempted to do an ambush interview of president Jonathan Lash at his home earlier this week to ask him why he removed the flag. This was after Watters had asked residents in the area about their thoughts.
Lash refused to answer Watters and pointed out that the Fox reporter wasn't allowing him to close his door. It was later revealed that campus security and the local police department were called on Watters and his cameraman.
However, today, Watters declared victory. Why? Because the school made the decision to return the flag back to full staff.
Victory https://t.co/dxk76kMgCa

— Jesse Watters (@jessebwatters) December 2, 2016
According to Fox News, Lash released a statement explaining the reasoning behind flying the flag once more.
"We understand that many who hold the flag as a powerful symbol of national ideals and their highest aspirations for the country — including members of our own community — felt hurt by our decisions, and that we deeply regret," the college's president, Jonathan Lash, stated Friday. He added, "We did not lower the flag to make a political statement. … We acted solely to facilitate much-needed dialogue on our campus about how to dismantle the bigotry that is prevalent in our society."
It was also reported by Fox that last weekend, dozens of protesters demonstrated outside the campus, shouting "U.S.A" while waving flags.
[image via screengrab]
–
Follow Justin Baragona on Twitter: @justinbaragona
Have a tip we should know? tips@mediaite.com