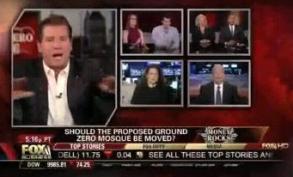 Last week we brought to light a lengthy segment on Fox Business Network and asked if it was the "worst Ground Zero Mosque debate ever."
The Howard Stern Sirius XM channel answered: yes. Here's a look at how the segment intersected with Stern's channel – and how Eric Bolling continued the debate on Money Rocks the rest of the week.
Bolling continued talking about the Islamic Cultural Center near the future site of One World Trade Center the rest of last week, but the debate changed in some unusual ways. On Thursday, Bolling tried to keep his panel in check, stopping them several times from interrupting each other – a major contributing factor to the initial "worst" designation (via Johnny Dollar). A strong supporter of the center was a guest as well, Manhattan Borough President Scott Stringer, who wasn't prepared to say Bolling was an Islamophobe. Instead, "It's clear though that you're a ratings hound, and this kind of debate serves you personally very well." Later: "If you let me speak then I will provide you with better ratings and a real conversation."
On Friday, Bolling got up in a helicopter to look at the center, and he found something he thought was suspicious. In this Facebook picture he posted, it apparently shows an upside-down flag. He tweeted:
HEY!!!! thats the rooftop of the GZ Mosque! The American flag upside down is an intl. signal of distress.. coincidence maybe…eery?.. DEF!
Yes, what is an upside down flag doing on the roof of the Burlington Coat Factor?! The copter perspective was shot down by Alan Colmes Friday night on Money Rocks. "The aerial view gives a ridiculous perspective," he said.
But the initial segment also got the attention of Howard Stern's news team. We caught several segments on The Howard 100 News show (Stern's dedicated news team and department) about the 'worst debate ever.' On one, Bolling himself was interviewed. "People were emailing me right after it hit the blogosphere," Bolling said of the post. And of his show: "It's not traditional, I'll tell you that, it's different. If people are expecting sit-down one-on-one expert interviews that frankly put me to sleep, then don't watch our show."
Meanwhile Jackie Martling, who currently has his own show on the Howard 101 channel, was a part on the "worst" debate, and was interviewed about it as well. "So fine, according to him," said Martling. "He should throw his own debate, either you're for it or against it, there's no such thing as a bad debate."
Let's listen to this again and see if it was a bad debate. Look – this is, without a doubt, an issue people are talking about all over New York City and all around the country. I suppose there are business elements to it, but it's mostly a political story. But Money Rocks keeps looking for new angles, and in some cases, stirring up new fear tactics. We'll continue watching, and reporting.
Here's Bolling getting asked about the interview, and Mediaite's label of it, on Stern's radio channel (more videos below):

Martling getting asked about me calling it the "worst debate" on Stern's radio channel:

The Thursday debate on Money Rocks (via Johnny Dollar):


—–
» Follow Steve Krakauer on Twitter
Have a tip we should know? tips@mediaite.com