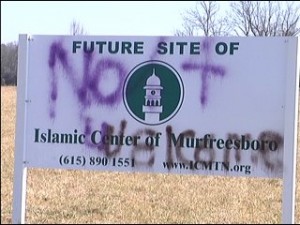 Lately, much has been made of the reported tensions and vitriol between those eager to develop Islamic cultural centers and mosques, and some who oppose said development. And while the majority of the nation's attention has focused on a proposed project in lower Manhattan (near Ground Zero), a proposed expansion of a Mosque in Murfreesboro, Tennessee has also generated some protest. This weekend it seems that tensions may have bubbled over after reports that a piece of construction equipment was burned at the building site for the Islamic Center of Murfreesboro. One day later, the Rutherford County Sheriff's Office investigated a report about shots fired at the site.
The Daily News Journal reports:
Rutherford County Sheriff's deputies are investigating a complaint about shots being fired near the construction site of the Islamic Center of Murfreesboro on Veals Road off Bradyville Pike.

A group of congregation members were at the site looking at the damage done to construction equipment over the weekend when they heard nine shots fired from two directions.

Around 3:15, they reported hearing six shots coming from one direction, and about three minutes later they heard three more shots from another direction, said Saleh Sbenaty, a congregation member and MTSU professor.

He wasn't sure if the shots were being fired at the Muslim group, but in the aftermath of the weekend vandalism, he said they felt it necessary to report.
Earlier this summer there was a staged march of those who objected to the expansion of the mosque, which several hundred individuals reportedly took part in, carrying signs that were alleged to read "Mosque Leaders Support Killing Converts." Last month, Tennessee Lt. Gov. Ron Ramsey publicly criticized the project while running for Governor, saying "You could even argue whether being a Muslim is actually a religion, or is it a nationality, way of life, a cult, whatever you want to call it."
In light of the stabbing of a NYC cab driver by a passenger who asked "are you Muslim?" Many have questioned whether there will be more violence towards Muslim-Americans after much vitriolic rhetoric has filled the airwaves, or this is just isolated incident.
Have a tip we should know? tips@mediaite.com