Following Uproar, Maine Newspaper Rescinds Request For Info About Concealed Weapons Permit Holders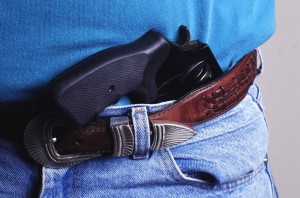 A few months ago, New York's Journal News became the object of much anger after publishing maps identifying gun permit holders in two counties. Now, the Bangor Daily News, a newspaper in Maine, is embroiled in a similar controversy — rescinding its request for information about concealed weapons permit holders following a flurry of negative reaction.
RELATED: Blogger Retaliates Against Gun Map, Publishes Addresses Of Newspaper's Staff
On Thursday, an editor's note on the paper's website informed readers of the reasoning behind their request. They wanted the records as "part of long-term reporting projects on domestic violence, sexual assault and drug abuse" — and the timeline of their request was accelerated because of legislation that would take the information off public records.
The note even cited the Journal News debacle, underscoring that publicly revealing the information was not their intent:
The BDN has never had any intention to release identifying information about permit holders, and said so in our request. We recognize how sensitive this information is, and made sure police agencies knew of this intent.

We believe the wholesale publication of permit holder information, as was done recently by a newspaper in New York, is irresponsible.

We intend to use this information about permits, along with other information sets we are gathering, to analyze possible correlations relevant to our reporting projects.
The backlash, however, was swift — with Republican lawmakers holding an "emergency press conference" about the matter. They contended that the paper was "politicizing" the gun issue, that it's "time to stop harassing law-abiding gun owners."
On Friday morning the paper backed down, rescinding its request, albeit with disappointment. "We have informed the agencies who received our request to disregard it," the editor's note said. "We've informed the agencies who have responded that their records will be destroyed."
Regretting the controversy, the paper expressed it had good intentions, again emphasizing that they'd never make the same "irresponsible" decision the Journal News did.
We are disappointed with the reaction to our request, which we felt was with the best intentions to help study issues affecting Maine through an analysis of publicly available data. We will continue our reporting, but will use other sources of information to do so.

The BDN regrets that its request for information may have been taken as a personal attack on concealed carry permit holders, some of whom work at the BDN.
Though their will to ask "difficult questions," they said, is undeterred.
Have a tip we should know? tips@mediaite.com