For Megyn Kelly, Upcoming Special Really Serves As Most Important Job Interview She'll Ever Have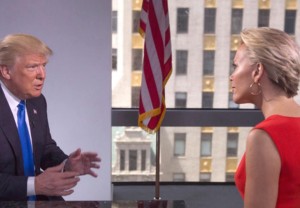 As you may have heard, Megyn Kelly's one-on-one interview with Donald Trump, her first with him this election season, comes to Fox television Tuesday night at 8:00 PM via Megyn Kelly Presents.
My focus on this special won't so much what almost everyone else is focusing on (the Trump interview) but more on the way she conducts other interviews for this special and her performance as a whole in particular (in addition to the presumptive GOP nominee, Laverne Cox, Michael Douglas and Robert Shapiro will also be featured in seperate interviews).
Why look beyond Trump? Because this entire hour will be watched quite closely by those in corner offices who make big programming decisions at ABC, NBC, CBS, TBS, CNN and all the major distribution outfits like Warner Brothers, which carries Ellen DeGeneres' show (Ellen) where the host earns $1.2 million … per week ($63 million annual).
Kelly appears to understand that her stock is as high as its ever been to this point. The big New York Times profiles, the Vanity Fair cover, interviews in People and Variety, all the late-night appearances from Colbert to Fallon… she's going places outside the cable news bubble no female host from here has gone before. Time even named Kelly as one of the 100 most influential people in the world in 2014 (only one other broadcast journalist who earned that distinction was Charlie Rose; Bill O'Reilly was also once named to the list another year).
Question: Will she leave Fox News when her contract is up next year? She tells Time her dream job is, "A little Oprah, a little Charlie Rose and a little me." Not sure her current offering (The Kelly File) affords her that kind of platform, although one could envision a post-election Kelly File morphing into whatever the host and her team wants it to be. We've seen glimpses of this approach via her relatively recent interviews with Michael Moore, Richard Dreyfuss and Diane Sawyer. Politics and legal issues are the forefront, yes, but the host seems just as interested in broadening the scope and guest selection, with human interest interviews — the kind you see more on the big networks — being the offering. Given Pew Research's findings on the makeup of Fox's audience, expanding the brand and offering on her program ain't such a bad idea. Per Pew:
While Fox News is a dominant source for conservatives, it also draws a significant portion of its audience from across the ideological spectrum: Those with mixed ideological views make up 37% of its audience (they make up 36% of all panelists), and those to the left of center account for 18% of its audience (14% mostly liberal, 4% consistently liberal).
And the loyalty provided to Fox Chairman and CEO Roger Ailes by almost every major personality who has worked there should not be underestimated. Many of those who were with the network when it launched 20 years ago are still on the air. Job security in a very insecure industry, a winning product, generous contracts, and Ailes' backing have helped keep the right people around. And Fox TV — the Simpsons/American Idol one — allows Kelly a network stage since it really has no news magazine program right now.
But you still get the feeling that Kelly, 45, may prefer to get away from the daily grind that goes into a weekday live 9:00 PM program. ""I'm not saying I want to leave Fox News," she told Charlie Rose last month. "I'm saying I want to add — I think I'd like to add — to what I'm doing. But I have to figure it out, Charlie, because I don't want to take away more time from my family." Also telling Variety, "I have to keep my options open." Note: She now has three young children (age 6, 5 and 2) and likely would prefer to be there for them more after day care/school activities, dinner time, doing homework together and putting them to bed… something a 9:00 PM show doesn't allow. My wife recently cut back on her hours — which can also entail working evenings — upon having our second child for these very reasons. Adding: All of that said, Ailes has shown to flexibility in this regard, with Kelly telling Variety: "My boss has been good about working with me to make me happy–he knows I'm a hard worker. I've had few problems here where I couldn't talk to him and say, "Can we work something out?," and come away happy."
In looking at the network landscape, each of the Big-3 could offer Kelly a home, but the network where she could be the best fit would arguably be CBS. Its morning show (CBS This Morning) — despite critical acclaim — could use a fresh boost from a ratings and buzz perspective. There's also one juicy carrot only the Tiffany Network could dangle via a correspondent spot on 60 Minutes. Throw in a Barbara Walters-esque primetime specials and Les Moonves making this pitch, and you might have a winner.
Important guys like Moonves will be watching Kelly's special Monday night. The litmus test will be if she can make that easier-than-it-looks pivot of doing longer-form interviews that capture a network audience's attention, which is quite different from those watching the rapid-fire, six block, multiple-topic offering that is standard cable news. Questions the big boys and girls will be asking to themselves will likely include:
Is she likable and compelling on a network level?
Will people go out of their way to watch her regardless of the interviewee?
And the most important question executives at the alphabet networks will be asking:
Did she surprise me?
The long-awaited interview with Donald Trump is the focus, yes. But for the host, this will serve as the most important job interview she's ever done. The microscopes will be out.
Will Megyn Kelly re-sign with Fox News?
Tuesday night's special may go a long way in ultimately determining that.
— –
Follow Joe Concha on Twitter @JoeConchaTV
This is an opinion piece. The views expressed in this article are those of just the author.