Former AK Sen. Mike Gravel May Throw Rock Into 2012 Primary Lake Against Obama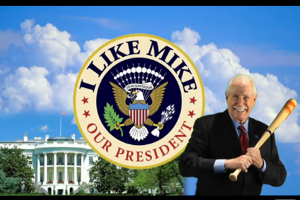 The last time we heard from merry presidential outlier Mike Gravel— the Democratic answer to Ron Paul in the 2008 elections– he quelled our summer doldrums with a high-production-value example of what America would be like had he won the 2008 election, courtesy of the people that brought you "Obama Girl." Now, granting his first interview in months, Gravel threatens a return to politics– once again as a Democratic presidential candidate.
Gravel granted an exclusive interview to the Daily Caller, in which he refused to rule out a 2012 run on the Democratic side, among other things. Namely, he also refused to "praise" Sarah Palin and refused to rule out that "individuals in and out of government may certainly have participated" in 9/11. Uh-oh:
TheDC: You've called for an investigation into 9/11. Do you think the government was behind the attacks?

MG: Individuals in and out of government may certainly have participated with the obviously known perpetrators of this dastardly act. Suspicions abound over the analysis presented by government.  Obviously an act that has triggered three wars, Afghan, Iraqi and the continuing War on Terror, should be extensively investigated which was not done and which the government avoids addressing.

TheDC: Are you considering another run for president in 2012? Would you consider a primary challenge against President Obama?

MG: Both are possible.

TheDC: You've praised Sarah Palin in the past. Do you think she could beat Obama in 2012?

MG: I never praised Palin.  What I've said and continue to believe is that she is a very talented politician.  Policy wise and intellectually, I think she leaves a great deal to be desired.  I don't think she could beat Obama.
One can predict that the "truther" issue will be a bit of a hurdle for Gravel should he throw his hat in the ring against the incumbent, possibly more for whatever solid Republican candidates surface at the time than for President Obama. It's unclear how much havoc having a primary opponent throwing rocks into his lake will make for President Obama, especially in light of the fact that he more or less reinstated President Clinton yesterday because he had to run off to serious presidential business (a Christmas party), but if Gravel is throwing his hat into the ring, at least us media types are guaranteed a good time. Now all we need is Obama to face primary challenges from James Traficant, Terry McAuliffe and Rod Blagojevich and the 2012 presidential elections will become a repeat of the 2010 New York gubernatorial one.
And for those who have forgotten, below is Gravel's fantasy video of what America would be like with him in the White House, a sort of West Wing for the kind of people who were upset they didn't live in South Carolina so they couldn't vote for Alvin Greene. Check out the Barely Political classic (and contemplate your vote two years from now?) below:



[h/t Wonkette]
Have a tip we should know? tips@mediaite.com