Former Ethics Chief: Trump Using Kellyanne in Alabama Senate Race 'Very Definition of a Hatch Act Violation'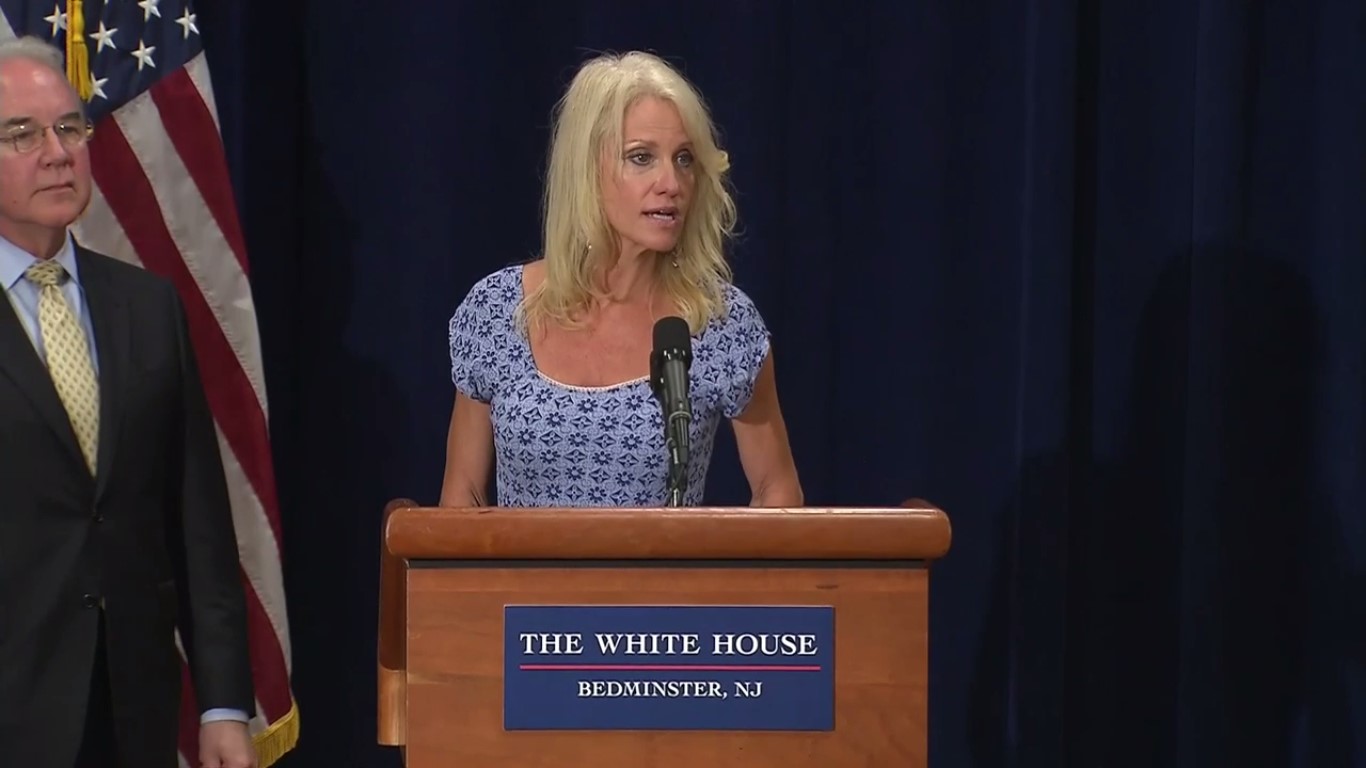 While President Donald Trump initially remained mum on the Alabama Senate race after GOP candidate Roy Moore was accused of child molestation, he has recently has become vocal in his support for the Republican — a turn around that started with a Kellyanne Conway appearance on Fox & Friends.
Conway did not endorse Moore by name when she was asked about the scandal, but she did issue a defacto endorsement by vehemently attacking his Democrat opponent Doug Jones — and reportedly did so at the personal behest of Trump, per Politico's Alex Isenstadt.
The report also states the president was frustrated that Jones was not taking any heat, as Moore's Republican national funding had been pulled following the allegations of predatory behavior. Many Republican lawmakers have since come forward saying that they believe the accusations and that Moore should step down.
This negative Moore coverage led Trump to dispatch the White House counselor to do some quasi-campaigning on Fox & Friends — which, according to one former ethics official, was a violation of federal law.
Walter Shaub, who is the former director of the US Office of Government Ethics, believes Trump putting Conway in the ring to go after Jones to help Moore is "the very definition of a Hatch Act violation."
Ding ding ding! We have a winner. @politicoalex says POTUS put Kellyanne Conway up to advocating against Doug Jones because the Moore allegations were giving Jones an easy ride. That, my friends, is the very definition of a Hatch Act violation. https://t.co/mC2eBdgsPR pic.twitter.com/ZrU3jhRuVi

— Walter Shaub (@waltshaub) November 29, 2017
The Hatch Act is a federal law that bans officials within the executive branch — aside from the president, vice president, and a select few other authorities — from participating in this campaigning and similar political involvement.
While the administration still maintains that Trump will not go to Alabama to campaign on behalf of Moore, he is still open to aiding the accused child molester by using robo-calls and emails to help his efforts against Jones.
[image via screengrab/Twitter]
Follow the author on Twitter (@calebecarma).
Have a tip we should know? tips@mediaite.com