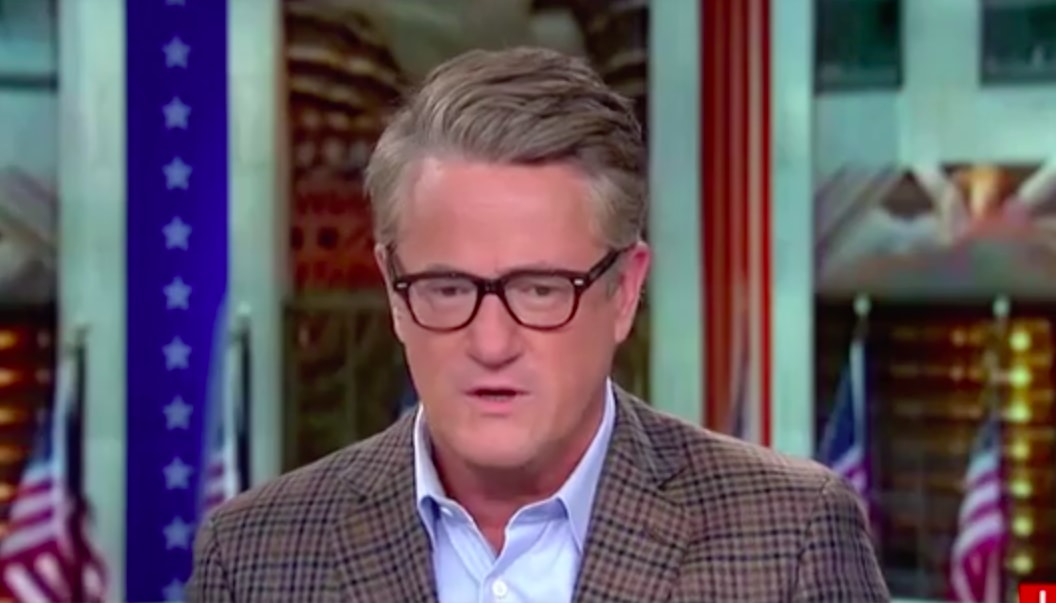 President Donald Trump was on one of his more impressive (read: horrifying) Twitter-benders Wednesday morning, retweeting anti-Muslim videos from fascist extremists and deriding major news networks as fake news.
One tweet took aim at his lover-turned-foe Joe Scarborough, asking if MSNBC would terminate the morning show host "based on the 'unsolved mystery' that took place in Florida years ago?"
"Investigate!" he added:
So now that Matt Lauer is gone when will the Fake News practitioners at NBC be terminating the contract of Phil Griffin? And will they terminate low ratings Joe Scarborough based on the "unsolved mystery" that took place in Florida years ago? Investigate!

— Donald J. Trump (@realDonaldTrump) November 29, 2017
So what is Trump talking about?
Well, in July 2001, when Joe Scarborough was still a Republican congressman representing Florida, a 28-year-old office worker named Lori Klausutis was found dead in his office.
From the Associated Press:
A 28-year-old office worker for U.S. Rep. Joe Scarborough was found dead Friday in the congressman's district office.

Preliminary findings from the medical examiner's office showed no foul play or any outward indication of suicide, said Police Chief Steve Hogue.

Authorities identified the woman as Lori Klausutis of Niceville. She had worked for Scarborough since May 1999, said Mick Serrano, press secretary for the congressman.
The medical examiner concluded that Klausutis — who had told a co-worker that she was not feeling well before her death — lost consciousness due to an abnormal heart rhythm and fell in Scarborough's office, hitting her head on a desk.
The head injury was the cause of death, per the medical examiner.
So where does the conspiracy theory that Scarborough murdered his intern come from? That's a bizarre tale, with no clear answer.
As Gawker documented, the most recent instance of the theory being raised came when Daily Kos founder and frequent MSNBC guest Markos Moulitsas got into a heated Twitter spat with Scarborough in 2010, and made reference to the "story of a certain dead intern."
That prompted a fierce response from Scarborough, who accused Moulitsas of having "a long history of spreading lies suggesting I am a murderer."
MSNBC president Phil Griffin promptly banned Moulitsas from the network after the fracas.
As Gawker wrote at the time, it "was also one in a long line of mini-wars Joe Scarborough has waged in an effort to stop getting people to insinuate that he killed his intern."
That includes Vanity Fair's James Wolcott (Scarborough responded to a story by the writer by sending an outraged letter demanding he retract the "libelous charge") and Michael Moore, who reportedly registered the domain name JoeScarboroughKilledHisIntern.com.
So no, there is no evidence Scarborough murdered his intern. It appears to be one of those bizarre conspiracy theories that long simmered in the depths of the cesspool that is the internet, and somehow managed to bubble up into the mainstream on several occasions.
And now with Trump — our conspiracy theorist-in-chief — in the Oval Office, it's obvious that nothing is out-of-bounds, whether it's Obama's birth certificate, Ted Cruz's father murdering JFK, or Scarborough offing his intern.
Scarborough responded to Trump's tweet on Wednesday with his own:
Looks like I picked a good day to stop responding to Trump's bizarre tweets. He is not well. https://t.co/XJhW5ZHNfs

— Joe Scarborough (@JoeNBC) November 29, 2017
[image via screengrab]
—
Follow Aidan McLaughlin (@aidnmclaughlin) on Twitter
Have a tip we should know? tips@mediaite.com
Aidan McLaughlin - Editor in Chief