Former GOP Candidate Sharron Angle Literally Thought Social Security Was a Box in West Virginia
Former GOP Candidate Literally Thought Social Security Was a Box in W. Virginia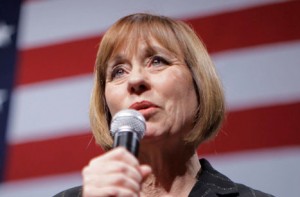 Former Nevada Republican senatorial nominee Sharron Angle has long been derided as one of the weakest candidates put forward in years, allowing a deeply unpopular Harry Reid to win reelection amid the Tea Party surge of 2010. But a new anecdote from Roll Call highlights just how out of her depth Angle really was.
The [National Republican Senatorial Committee] leaders wanted to talk about politics and policy with their newly minted nominee, but when the conversation turned to Social Security, they learned they had a big problem. Angle, according to two people in the room, talked about the entitlement program as if its cash reserves were literally stored in a "lockbox," located in a government facility in West Virginia.

"Her plan to save Social Security was to somehow take all the money that had been quote 'stolen' out of the lockbox, and put it back in the lockbox based in West Virginia," said Brian Walsh, who was then the NRSC's communications director.
"Obviously, a lot of eyebrows went up," Walsh told Roll Call. He later said that they never actually went back and challenged Angle's view of Social Security: "People looked around at each other, but there were so many things going on at that moment, it was like, 'Ok, we'll get back to this.'"
Former NRSC staffers are speaking now because Angle has decided to run in the Republican primary once again this year and they want to avoid a repeat of 2010. Angle shot back in a statement, saying that it "sounds like they are supporting Thomas Heck." Her Republican primary opponent is actually named Joe Heck.
[h/t Roll Call]
[Image via screengrab]
——
>>Follow Alex Griswold (@HashtagGriswold) on Twitter
Have a tip we should know? tips@mediaite.com