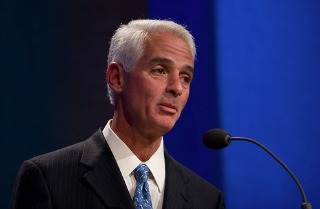 Former Florida Gov. Charlie Crist announced on Twitter Friday he's 'proud and honored' to be a new member of the Democratic Party.
Most recently an Independent, Crist ran unsuccessfully on the Republican ticket for U.S. Senate in 2010. He tweeted a photograph of himself and his wife Carole holding up a Florida voter registration application at the White House. Crist told the Tampa Bay Times that the move came as a result of "the Republican Party's shift to the right on a range of issues, including immigration, education and the environment." He said Friday night, "I've had friends for years tell me, `You know Charlie, you're a Democrat and you don't know it.'"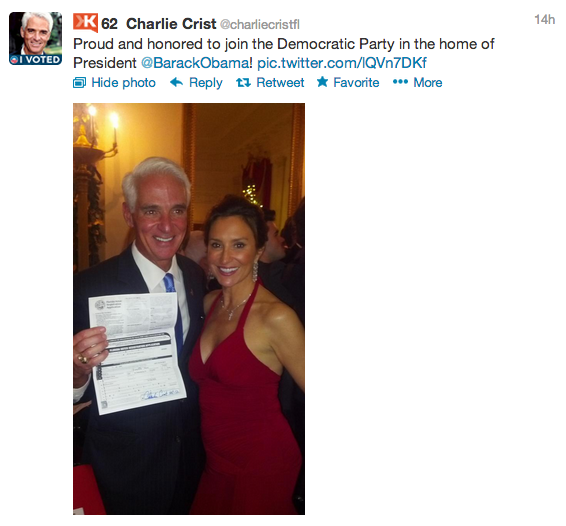 Crist spoke at this year's Democratic National Convention, backing President Obama's bid for re-election. The move comes amidst criticism of Crist from the GOP camp and brings with it speculation that Crist intends to challenge current Florida Governor Rick Scott, a Republican, in 2014.
The Florida Republican party released a statement Saturday slamming Crist's stated reasons for the switch, saying:
"Charlie Crist's first official act as a Democrat was to tell a lie about why he is now pretending to be one. The truth is that this self-professed, Ronald Reagan Republican only abandoned his pro-life, pro-gun, conservative principles in 2010 after he realized that Republicans didn't want to send him to Washington D.C. as a senator, especially after he proved he couldn't do the job as governor."
Although Steve Schale, a Democratic political consultant, called Crist a "viable Democrat," he will likely face steep competition for a run for Florida governor, including from former State Senator Nan Rich (D-Weston).
h/t CF News 13
—
>> Follow Anjali Sareen (@AnjaliSareen) On Twitter
Have a tip we should know? tips@mediaite.com