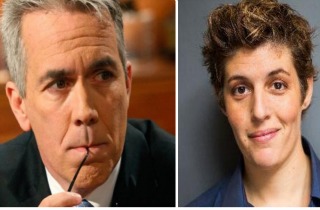 Joe Walsh and CNN's Sally Kohn, two peas in a pod?
The former Republican congressman defended Kohn on Friday from the conservative website Twitchy, which had mocked Kohn in two separate posts. "Dear Twitchy/Internet – Despite what may have been printed, Sally Kohn is not a moron," Walsh tweeted. "Stop."
Twitchy — a site founded by conservative author Michelle Malkin and is known for hyping up conservative humor on Twitter while bashing all things liberal — called Kohn "moronic" on Thursday after she sent out a joke on Twitter about Texas seceding from the U.S.
The site ran another post on the joke after Fox News contributor and Twitchy all-star Katie Pavlich sent a sassy reply to Kohn.
Walsh followed up on his defense of Kohn with a dig at Twitchy's editorial decisions: "Love how Twitchy will reprint the most unfunny conservative tweets and call them hysterical, then take a liberal joke and as serious."
We followed up with Walsh, and he told us "I've known both Malkin and Kohn and admire them both greatly. Malkin no longer owns Twitchy, so I don't think my criticism of Twitchy has anything to do with her, anyway."
Walsh added that his issue was with Twitchy slamming Kohn's joke.
"Liberals can be genuinely funny, and conservatives can often times fall flat," he said. "The converse is also true. We shouldn't pick the low-hanging fruit and and simply use that to push an agenda, especially when it involves humor and satire. "
Walsh's tweets below:
Dear Twitchy/Internet –

Despite what may have been printed, @sallykohn is not a moron. Stop.

Thanks,

— Joe Walsh (@WalshFreedom) September 19, 2014
Love how twitchy will reprint the most unfunny conservative tweets and call them hysterical, then take a liberal joke and as serious.

— Joe Walsh (@WalshFreedom) September 19, 2014
[Photo via Twitter: @WalshFreedom/@SallyKohn]
— —
>> Follow Eddie Scarry (@eScarry) on Twitter
Have a tip we should know? tips@mediaite.com