Former Obama Spokesman On Testy Town Hall Incident: 'Mitt Romney Has No Core Principles'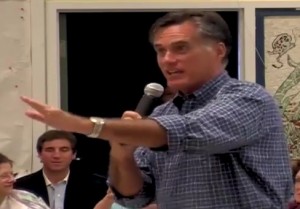 Former Obama Spokesman and current Senior Strategist for Priorities USA Action Bill Burton is calling out GOP hopeful Mitt Romney over his response to a voter at a New Hampshire town hall meeting. Ask for his reaction to the tense exchange, Burton tells Mediaite that Romney got "testy" because he "has no core principles," and points out the former governor's hypocrisy in bragging about balancing the state's budget, while opposing the revenue increases that allowed him to do it.
In a contentious exchange with a voter at a New Hampshire town hall meeting yesterday, a visibly frustrated Romney engaged in some back-and-forth with a woman who was trying to ask about his support for a balanced budget amendment, then responded by pointing to his own record of balancing the budget as Massachusetts Governor.
Asked for a reaction to Romney's exchange with that New Hampshire voter, Priorities USA Action Senior Strategist Bill Burton called Romney out over the shifting positions that have dogged his presidential campaign:
States have to balance their budgets, and Mitt Romney did it by raising taxes and fees. Now, he claims to oppose any revenue to balance the budget. Candidates can get testy when they have to defend their core weakness and for Mitt Romney, it's that he has no core principles and shifts positions depending on what office he is seeking.
Obama allies aren't the only ones who  have noticed the gulf between Romney's rhetoric and his actions. Romney has also been criticized by anti-tax groups and other Republican candidates for his revenue-raising measures as Governor of Massachusetts.
In case you missed it, here's the video of Romney's exchange at that New Hampshire town hall:
Have a tip we should know? tips@mediaite.com