Would Hollywood Walk Of Fame Ever Consider Honoring Reality TV Stars? 'Hell To The No!'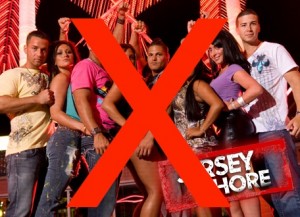 Whoever runs the Hollywood Walk of Fame Facebook page deserves the world's biggest cookie.
Apparently, one of their fans inquired if any of the famous Hollywood stars would be given to reality TV characters. You know, because Snooki is just as culturally important as Humphrey Bogart or Samuel L. Jackson. On Monday, the group's Facebook page explained their position on inducting reality TV stars:
Someone asked if we give reality show characters stars? Hell to the No!
There are, of course, people on the Walk who have been in reality TV shows (i.e. Ozzy Osbourne), but their stars were granted based on their other contributions to the arts. The reception to the news appears to be almost unanimous. There are even some famous media personalities who have receivd stars, including Edward R. Murrow and fellow CBS journalist Cecil Brown.
The HWOF Facebook page details the criteria for receiving a star:
To be honored with a star in Hollywood's Walk of Fame, the world's most famous sidewalk, is a tribute as coveted and sought after as any of the entertainment industry's equally prestigious awards — including the Oscar, Emmy, Grammy, Golden Mike or Tony. And, because it recognizes a life-long contribution of both public and peer appreciation, it is an honor uniquely in a class of itself, a permanent monument of the past, as well as the present.
So it goes without saying that reality stars don't qualify anyway. And you've got to draw the line somewhere. But I'm curious to find those few people who would disagree with this decision. You know, the ones dipping their tainted toes in the human gene pool. In fact, you know how people think reality stars are famous for doing nothing? Well, Kim Kardashian doesn't think what she does is "nothing."
"People say I do nothing but I laugh at that because my job is the reality show, the fashion lines the books — I never stop… It's a fulltime job. It's not nice to be criticized but it really doesn't bother me because I know everyone has their own opinion."
The fashion lines and books? Oh good golly gosh! Such a heavy workload.
Influence and fame means absolutely nothing if you've done nothing to deserve it. Writing books after the fact merely proves you have a good ghostwriter and can think in almost-complete sentences.
Hollywood may not be the grand place it used to, but at least there are standards: "You must be this talented to ride."
h/t Washington Post
Have a tip we should know? tips@mediaite.com
Josh Feldman - Senior Editor