Former Obama Spox Bill Burton Piles On With Perry Campaign To Demand Mitt Romney's Tax Returns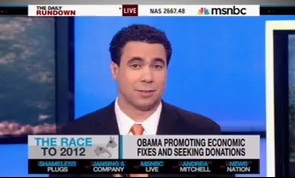 Earlier today, Politico reported that Texas Gov. Rick Perry's campaign demanded that near-frontrunner Mitt Romney release his tax returns, which Romney's camp says he won't do until "next tax season."
In a rare (these days) bit of bipartisanship, former Obama spokesman Bill Burton released a statement agreeing with the Perry camp, and zinging a recent Romney gaffe. If Romney does release his tax return, though, will Perry have to run it through Donald Trump to see if it's real?
According to Politico's Ben Smith, Perry's camp challenged Romney to release his tax return now:
"Governor Perry has always released his tax returns and Mitt Romney and the other candidates should do the same," Perry spokesman Mark Miner told POLITICO.
But Romney aide Eric Fehrnstrom said his candidate wouldn't even consider releasing them until next spring.
Former Obama spokesman Bill Burton released a statement through his Priorities USA ActionPAC, demanding Romney do the same, and zinging the former Massachusetts Governor over his recent debate gaffe:
"Given Mitt Romney's concerns for the political implications of his actions, I'm not surprised he continues to refuse to release his tax returns. When you translate his campaign's statement into what Romney really means, it comes down to this: 'I can't release my tax returns and show how little I paid on the millions I have. I'm running for office for Pete's sake!'," said Bill Burton, Senior Strategist for Priorities USA Action.

"Romney should release his tax returns immediately, before he has time to polish them up for politics. He must be honest with the American people about how much he and his wealthy friends benefit from a tax system that puts an overwhelming burden on hard working Americans."
The Obama campaign made hay over rival Hillary Clinton's tax returns in 2008, demanding that she release hers after then-Sen. Barack Obama released his. The Clinton campaign took its sweet time getting around to it, which caused a lot of unwarranted anticipation among the press. When they finally did release it, there wasn't much of interest there. The Clintons paid 31% of their adjusted gross income, which stands to be much higher than the 14% that some estimate Romney will have paid.
With Occupy Wall Street's media omnipresence pushing issues of income inequality front and center, it will be interesting to see if Romney can, indeed, get away with holding off until Spring, when the GOP nomination might already be decided. If Perry and Burton have their way, he won't.
Have a tip we should know? tips@mediaite.com