Former O'Reilly Inside Edition Colleagues Dispute His Recollection of L.A. Riots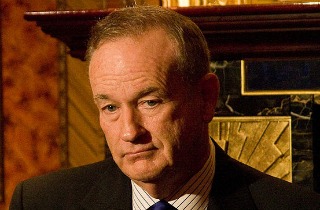 Bill O'Reilly's recollections of various big events he's covered continue to be questioned, as a new report out today featured several of his former Inside Edition colleagues disputing how O'Reilly has talked about covering the L.A. riots.
According to The Guardian, O'Reilly has talked on multiple occasions about being in direct danger during those 1992 riots while he was at Inside Edition, saying as recently as this week, "We were attacked by protesters, where bricks were thrown at us."
However, other people who worked for Inside Edition while O'Reilly did and also covered the riots are not saying the same thing. One of them flatly states, "It didn't happen." Another says, "I honestly don't recall watching or hearing about that. I believe I probably would have remembered something like that."
There was, however, an incident some of them recall differently:
"It was one person with one rock," said McCall, the sound man. "Nobody was hit."

"A man came out of his home," said Antin, who was operating the camera that was struck. "He picked up a chunk of concrete, and threw it at the camera." Told of O'Reilly's description of a bombardment, Antin said: "I don't think that's really … No, I mean no, not where we were."

"There was no concrete," said McKeown. "There was a single brick".
One of these individuals, Robert Kirkham, also said that O'Reilly was "being very insensitive to the situation" and got very confrontational with one resident who was trying to clear the wreckage.
UPDATE — 10:45 p.m. ET: We should note, in the report Inside Edition filed on the riots, reporter Bonnie Strauss said rocks and bottles were thrown at the journalists covering the riots.
UPDATE — Fri., 9:20 a.m. ET: A Fox News spokesperson issued the following statement on 02/26/15, at 11:25 p.m:
"Bill O'Reilly has already addressed several claims leveled against him. This is nothing more than an orchestrated campaign by far left advocates. Responding to the unproven accusation du jour has become an exercise in futility. FOX News maintains its staunch support of O'Reilly, who is no stranger to calculated onslaughts."
You can watch O'Reilly covering the riots here:
[image via screengrab]
— —
Follow Josh Feldman on Twitter: @feldmaniac
Have a tip we should know? tips@mediaite.com
Josh Feldman - Senior Editor