Former People Reporter on 1991 'John Miller' Phone Call: It's 'Absolutely' Trump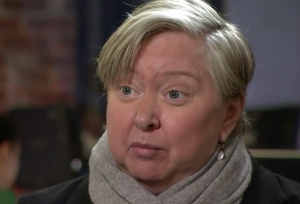 This story is getting really weird, but like Tommy Christopher said this morning, it might not even have any staying power. To catch you up, the Washington Post published an old tape that is purportedly of Donald Trump's PR flack John Miller but sounds an awful lot like Trump himself. Trump is vehemently denying that it is him in the tape, which features details about his love life.
The reporter on the other end of that phone call was Sue Carswell, who was with People at the time. She was calling to find out more information on his relationship with Marla Maples. Recall that at the time, when she was played the tape, Maples confirmed it was Trump and said she no longer wanted to associate with him. Tonight, Carswell appeared on NBC's Nightly News where she spoke with Cynthia McFadden. Watch:
Carswell confirmed to McFadden that she had played the tape for Maples, who began to cry.
NBC dug up old articles from People confirming that not only did they report at the time that they had spoken to Trump while he impersonated a "fictitious" PR person, but that Trump himself reached out to Carswell to apologize for pretending to be someone else on the phone a few weeks after the incident.
McFadden ended the segment by saying that the campaign still refuses to say that it was Trump on the phone the whole time.
[image via screengrab]
For more from Lindsey Lindsey's publicist, Dawn Tiller, head to Twitter or Facebook.
Have a tip we should know? tips@mediaite.com