Former RNC Chair Michael Steele: Proposed GOP Abortion Plank Is 'Way Outside The Mainstream'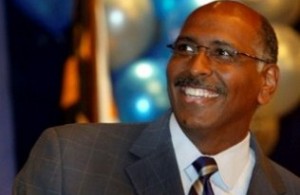 Former RNC chairman Michael Steele said today that the pro-life view held by some Republicans that there should be no exceptions for abortion in the case of rape and incest is "way outside the mainstream." Earlier this week, the Republican Party drafted an official party platform that included support for "a human life amendment" to the Constitution with no "explicit exemptions for rape or incest." Steele argued that despite his view of the position, Mitt Romney should not waste energy fighting the party to change it.
RELATED: CNN Reports Republican Party Platform Will Include No Exception For Rape, 'Legitimate' Or Otherwise
Steele made his comments today on NewsChannel8's "NewsTalk" in response to a question about the controversy surrounding Republican congressman and Missouri senate candidate Todd Akin, and specifically whether opposing rape even in cases of rape and incest is a mainstream position. Steele argued that many people who consider themselves pro-life recognize such limits.
"There's a wide array of views on the issue, and there are a lot. I think recent polls have showed a bare majority of Americans — 50, 51 percent of Americans — call themselves pro-life, but even in calling themselves pro-life, they recognize the exemptions for rape, incest and life of the mother. So this view held by [Rep. Todd Akin] is way outside that mainstream of American thought."
Steele added that Akin would most likely stay in the race until the end with the help of "grassroots money." He followed up by telling POLITICO that not all Republicans agree with everything in the platform, so despite his personal views, Mitt Romney should not try to get the platform position on abortion changed.
"I think that view that [Romney] personally holds has been made public for sometime… Even if [the lack of a rape exemption] does become an official platform, that's not going to change his view on the subject. Not everybody in the party agrees with everything that's in the platform."
h/t POLITICO
Have a tip we should know? [email protected]
Josh Feldman - Senior Editor