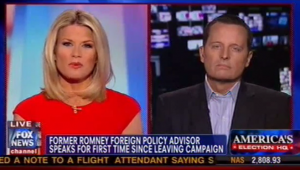 Former Mitt Romney spokesman Richard Grenell took to the Wall Street Journal to voice his thoughts on "Marriage, Gay Republicans and the Election." In the op-ed, Grenell insists that while there are many reasons to vote against President Barack Obama, his stance on gay marriage is not one of them.
RELATED: Romney Spokesman Richard Grenell Resigns Following Backlash For Being Openly Gay
You'll recall that Grenell's departure from the Romney campaign garnered media attention. Grenell is openly gay and was the subject of backlash from the likes of Bryan Fischer, the director of issue analysis at the American Family Association (who rejoiced at the news of Grenell's resignation). Grenell didn't address any of that in the op-ed, instead focusing on his argument that it's possible to simultaneously support gay rights and Romney.
Writes Grenell:
Over the last few weeks there has been a public debate about how Republicans react to the issue of gay marriage. Some extremists have given the media fodder by suggesting that support for gay marriage disqualifies one from being a GOP activist. Some have even said that gay Republicans shouldn't be too visible or involved in party politics.
[…]
Thousands of Republicans privately voiced support for my appointment and were disappointed by the events that led to my resignation earlier this month. Some did so while admitting they disagreed with my support for gay marriage. But they too are passionate about a strong America, personal responsibility and independent religious institutions–issues that should be at the forefront of this year's presidential election.

Like many voters, I rarely agree with a candidate's every position. I can support Mr. Romney for president but not agree with all of his stated policies. I can be proud of President Obama's personal support for gay marriage and still take exception to his dismal national-security and economic records.

Millions of American voters will also evaluate both candidates' policies in total and come to the same conclusion: Mr. Obama doesn't deserve to be re-elected and Mr. Romney does.
Grenell also made an appearance on Fox News today, in his first TV interview since his resignation. There, he did address his departure. Calling the focus on his being openly gay "ludicrous," he said it shouldn't be news that a person doesn't agree with 100 percent of the views of the candidate he/she works for. "I became a distraction for the issues I most care about," he said.
For much of the segment, Grenell criticized Obama's foreign policy record and worldview, bringing up Obama's "open mic gaffe." Toward the end, the interview circled back to Grenell's being an openly gay Republican. "I'm comfortable with who I am," despite the criticism, he said. "A lot of Americans are just like me, in that they have a lot of multiple views."
Take a look, via Fox News:

Have a tip we should know? tips@mediaite.com