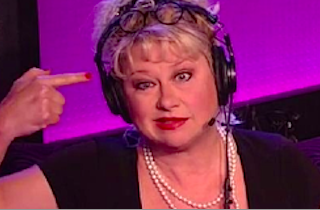 When former Saturday Night Live cast member turned tea party enthusiast Victoria Jackson announced she would be running for office earlier this year, she set her sights pretty low: a seat on the Williamson County Commission in Tennessee. This week, she lost that bid.
According to The Tennessean, Jackson received a total of 632 votes, compared to 1,422 votes for Judy Lynch Herbert and 1,380 votes for Betsy Hester, neither of whom ever appeared on a weekly late night comedy show on NBC.
The former comedian posted her concession speech online, under the headline "I Lost…But, my Peeps WON!!" Jackson celebrated the school board victories of candidates she supported and slighted the local media for ignoring her race.
Jackson also shared her first reaction to finding out she had lost: "Well, I don't really like numbers, and Commissioners mostly talk about numbers, the budget." She continued, breaking down the obstacles she failed to overcome:
"This was my first foray into actual 'running.' I've spent 6 years researching and blogging, as a new political activist and thought 'running' was the next step. In owning my defeat…there's always the fact that my opponents are 'incumbents' and if voters like their lives, they don't want to change anything. I do portray a 'ditz' extremely well and have been paid well for that…gift. My persona could be a stumbling block. My voice. The bow. I've only actually lived here 17 months, and my opponents are long-time residents."
There's always next time!
[Photo via screengrab]
— —
>> Follow Matt Wilstein (@TheMattWilstein) on Twitter
Have a tip we should know? tips@mediaite.com